SoC targets isolated DC-DC power applications.
Press Release Summary: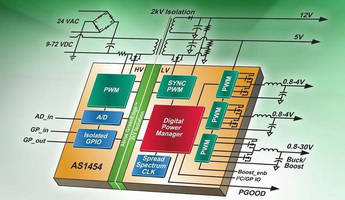 Model AS1454 quad-output digital power SoC integrates capabilities of up to 8 separate ICs. It includes 9-72 V input range isolated primary converter, 2 kV isolation barrier, high-current-capable buck or boost PWM controller, and 2 x 2 A buck regulators. Built-in cross-isolation DC-DC timing management and digital power control deliver 92% DC-DC efficiency. Unit offers selectable spread-spectrum clocking on all PWMs to minimize spectral noise/EMI of power supplies.
---
Original Press Release:

Akros Offers First Integrated, 2 kV-Isolated, Quad-Output Power SoC



The AS1454 integrates GreenEdge(TM) isolation technology on silicon to deliver a 92% efficient, space-saving and cost-effective device for isolated DC-DC power applications

SUNNYVALE, Calif. - July 30, 2009 - Akros Silicon Inc . introduces an isolated quad-output digital power SoC that sets a new integration benchmark for the isolated DC-DCs that are used in a wide range of industrial, datacom, automotive, medical, residential gateway, display and other distributed power applications. Built around Akros' field-proven and patented GreenEdge(TM) digital isolation technology, the AS1454 eliminates the need for low-speed, bulky opto-couplers and integrates the functionality of up to eight separate ICs used in current implementations. This leads to a substantial reduction in design footprint and bill-of-material costs. The AS1454's built-in cross-isolation DC-DC timing management and digital power control delivers 92% DC-DC efficiency with excellent light-load efficiency management for energy-efficient, green-power applications. The result is a power SoC that delivers cost and energy savings--all while simplifying system designs with digital power and electromagnetic compatibility (EMC) management features.

The AS1454 integrates a wide input range (9V-72V) isolated primary converter, a 2kV isolation barrier, a high-current-capable buck or boost PWM controller, and two 2A buck regulators into a single device. Its wide-input voltage range allows it to be used in 12VDC/24VDC/24VAC distributed power applications in industrial, building management, analog surveillance camera and automotive systems, as well as 48V distributed power applications in telecom, datacom, industrial and medical equipment requiring a 36V-72V input voltage range. It offers selectable spread-spectrum clocking on all pulse-width modulators (PWM) to reduce power-supply spectral noise by more than 15dB to lower the EMI signature of the switch-mode power supplies and ease system design for EMC compliance.

"With world-wide focus on energy saving initiatives, power subsystems play an increasingly value-added role in overall system design," said Amit Gattani, Network Power Business Unit Director for Akros Silicon. "The AS14x4 product family allows our customers to address energy efficiency and lower cost requirements of next-generation equipment, while reducing system level design complexity and development costs. With the AS1454 platform solution, our customers can leverage Akros' leadership in silicon to deliver cutting-edge products even under challenging budgets and cost targets."

The AS14x4 product family consists of the AS1454, AS1444, AS1434 and AS1424 devices that cover the gamut of system power and feature requirements. The AS1454/34 are I2C-capable with advanced system diagnostics and programmability features. AS14x4 products are available in footprint-compatible, 64-pin 9x9 QFN, Reduction of Hazardous Substance (RoHS)-compliant packages. Device pricing is available upon request. Contact a local manufacturing representative and order samples at: www.AkrosSilicon.com.

For more information about Akros GreenEdge technology, see AkrosSilicon.com/GreenEdge.

About Akros Silicon

Headquartered in Silicon Valley, Akros Silicon provides leading-edge, intelligent energy management ICs. Akros' disruptive silicon technology makes it possible to integrate multiple ICs, high-voltage isolation and discrete components into a single device, thus enabling electronic OEMs to develop cost-effective and energy-efficient solutions.

More from Fluid & Gas Flow Equipment