Snow Shield(TM) protects filters by melting snow.
Press Release Summary: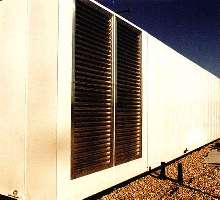 Deep pocket design prevents snow from clogging air filters and diminished air flow into buildings. Design also provides constant drainage, prevents refreezing of snowmelt, and eliminates stagnant water pools. Extracting snow flakes from air as it enters buildings, product installs into factory built air handlers and field built HVAC systems. It is available in various panel sizes for 3,000-30,000 cfm range; multiple panels can handle over 100,000 cfm.
---
Original Press Release:
Conserv-A-Therm's New Max-Vee Snow Sheild(TM) Protects Filters and Increases Snow-Melting Efficiency!
Union, New Jersey - November 18, 2002 - Conserv-A-Therm Corporation announces the introduction of its new snow shield with a unique design to prevent snow clogged air filters and diminished air flow into buildings, a problem which building owners have had with other types of snow shields in the past. The Max-Vee Snow Shield(TM) incorporates a "deep pocket" design, which lowers face velocity and increases snow-melting efficiency. This unique design also features maximum constant drainage, prevents refreezing of snowmelt, and eliminates stagnant water pools. Arthur Giroux, President of Conserv-A-Therm, noted that "the superior construction of our Max-Vee Snow Shield was designed to provide a reliable, safe, economical, and low maintenance method of extracting snow flakes from air as the air enters any given building." "The end user advantages of the Max-Vee Snow Shield extraction system are low first cost, low operating costs, and less maintenance costs, as well as, the elimination of potential health risks associated with mold and bacteria growth found in other methods of snow removal," said Giroux. The Max-Vee Snow Shield can be installed in factory built air-handlers, field built HVAC systems with the advantage of low power consumption and without the need of boilers, pumps, piping, etc. It is ideally suited for retrofit of existing problem systems. The Max-Vee Snow Shield is available in various panel sizes for a range of 3,000 to 30,000 cfm each and multiple panels can handle over 100,000 cfm. For additional information or catalog contact: Arthur Giroux Conserv-A-Therm Corporation 651 Lehigh Avenue Union, New Jersey 07083 1-800-637-9252
More from Material Processing