SMT Tantalum Capacitor features facedown MnO2 technology.
Press Release Summary: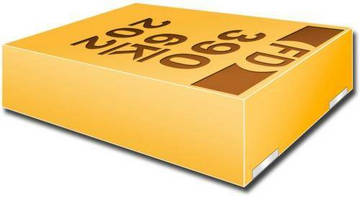 Providing volumetric efficiency of conformally coated capacitor in molded package that supports pick-and-place operations, Facedown MnO2 T428 Series features SnPb termination finish. Capacitance values range from 15-470 µF, and tolerances of ±5%, ±10%, and ±20% are available. Rated 4-50 Vdc, series operates from -55 to +125°C and is suited for applications such as decoupling and filtering in radar and switch mode power supplies.
---
Original Press Release:

KEMET Introduces Tantalum High Volumetric Efficiency Facedown MnO2 Technology



T428 Series Joins High Reliability Commercial-Off-The-Shelf Family

GREENVILLE, S.C. -- KEMET Corporation (NYSE: KEM), a leading manufacturer of tantalum, ceramic, aluminum, film, paper and electrolytic capacitors, today introduced its new Tantalum High Volumetric Efficiency (HVE) Facedown MnO(2) T428 Series capacitors. These surface mountable devices are the latest addition to KEMET's High Reliability Commercial Off-The-Shelf (COTS) family and offer increased power dissipation and enhanced ripple current capability.

"This new package design offers the highest capacitance per volume of any molded leadframe product," said Dr. Philip Lessner, KEMET Vice President, Chief Technology Officer and Chief Scientist. "It provides a broader, more direct path for heat to be dissipated through the capacitor than traditional construction. Additionally, the facedown construction offers higher power ratings per volume."

"KEMET's T428 Series was developed to provide the volumetric efficiency of a conformally coated capacitor in a pick-and-place friendly molded package," said Ed Jones, KEMET Product Manager, Specialty Tantalum Capacitors. "The planarity of the molded package eliminates potential issues associated with conformally coated tantalum surface mount devices."

The robust design features and testing protocol make this product ideal for use in the computer, industrial/lighting, telecommunications, defense and aerospace markets. Its performance characteristics are ideal for various high reliability applications such as decoupling and filtering in radar and switch mode power supplies.

About KEMET

KEMET's common stock is listed on the NYSE under the symbol "KEM." At the Investor Relations section of our web site at ir.kemet.com/, users may subscribe to KEMET news releases and find additional information about our Company. KEMET applies world class service and quality to deliver industry leading, high performance capacitance solutions to its customers around the world and offers the world's most complete line of surface mount and through-hole capacitor technologies across tantalum, ceramic, film, aluminum, electrolytic, and paper dielectrics. Additional information about KEMET can be found at www.kemet.com.


More from Material Processing