SMT Prototyping System has air-suspended pick-and-place head.
Press Release Summary: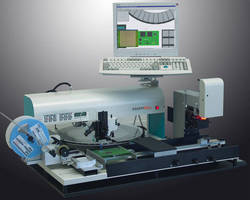 EXPERT Semiautomatic SMT Prototyping System allows picking of components from reels, sticks, rest tape strips, and loose components. It integrates vision and placement system MPL3100 which features double prisma optical system to display/overlay component and substrate on one screen. Turning station for upside-down components is also included. System connects to computer control to work in semiautomatic mode and placement data can be converted from CAD file or point-by-point.
---
Original Press Release:

Essemtec to Showcase Semiautomatic SMT Prototyping System at NEPCON China 2010



Essemtec, a leading manufacturer of surface mount technology production equipment, announces that it will introduce the Semiautomatic SMT Prototyping System, EXPERT in booth 2E30 at the upcoming NEPCON China/EMT China 2010 exhibition and conference - scheduled to take place April 20-22, 2010 in Shanghai, PR China.

Small batches and prototypes of SMD assembled boards can be mounted fast and accurate using the Essemtec pick&place system EXPERT. The pick and place head is air suspended, moves gently and ergonomic allowing a fast and accurate work.

When the component structures get to fine or if a manual alignment is impossible (BGA, Micro-BGA, Flip Chip), then the integrated vision and placement system MPL3100 can help. Its double prisma optical system can display the component and the substrate overlaid on one screen. Alignment and placement is therefore very easy and the large zoom range of the optic enables a highly accurate result.

The EXPERT placement system is perfectly suited for prototyping because it allows not only picking of components from reels and sticks but also from rest tape strips and loose components, too. A turning station for upside down components is a standard!

Of course fast and error free placement is a basic requirement also in small batch manufacturing, therefore the EXPERT placement system can be connected with a computer control and work in a semi-automatic mode. Placement data can be converted directly from the CAD file or they can be thought point by point. The Windows control software increases the productivity - in some cases even double it - and ensures that the correct component is correctly aligned at the desired place without errors.

The EXPERT placement system is available as complete prototyping station, including a dispenser and a reflow tool.

With this machine, users also have access to Essemtec's remote maintenance system and to the MyEssemtec.com user portal on the Internet. Additionally, Essemtec offers attractive solutions for financing and service.

About Essemtec:

Essemtec is a worldwide leader in the manufacturer of Surface Mount Technology (SMT) production equipment. Essemtec specializes in high mix production equipment for Printed Circuit Boards (PCB) using Surface Mount Technology.

Essemtec is the only manufacturer to cover the entire production process, from Printers and/or Dispensers, to Pick-and-Place and Soldering equipment. Therefore, customers benefit from unparallel knowledge and the ability to select, from a single source, a complete process solution to meet their requirements.