SMT PCB Connectors enable high-speed data transfer.
Press Release Summary: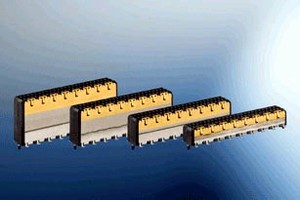 Suited for telecom and datacom applications with speeds up to 10 Gbit/s, MicroSpeed Shielded SMT Connectors consist of 2 contact rows and 2 outwardly arranged shield plates. Male versions are available in 1, 2, 9, and 10 mm heights, while female models come in 4, 6, 8, and 10 mm heights, making it possible to create 16 different stacking heights from 5-20 mm. For impedance purposes, longitudinal pitch is 1.0 mm and transverse pitch is 1.5 mm.
---
Original Press Release:

ERNI Electronics Expands MicroSpeed Connector Family To Offer Varying Heights



Enabling Fast Mezzanine Connections with Flexible PCB Stacking

ADELBERG, GERMANY - April 24, 2007 - ERNI Electronics announced the availability of new MicroSpeed connectors in a variety of different heights. Ideal for high-speed data transfer in telecom and datacom applications, the 1.0mm modular shielded SMT connector system consists of two contact rows and two outwardly arranged shield plates. MicroSpeed connectors have been designed for space-saving board-to-board connections, and are equally suitable for differential and single-ended signals.

With the availability of different height versions of the male (1, 2, 9 and 10mm) and female (4, 6, 8 and 10mm) connectors, it is possible to create 16 different stacking heights from 5mm to 20mm. Subsequently, just about every demand for different PCB configurations is met for the electronics designer. Another major advantage is the multiple-connector mating capability - based on the high mating tolerance - that allows the mating of more than one connector pair at the same time, and offers high scalability of the contact number. Areas of application include modern telecommunication and data transmission systems with speeds up to 10GBit/s, as well as technologies in the fields of measurement, medicine and government. In addition, the SMT version provides a fully automatic SMT assembly and reflow soldering process.

For impedance purposes, the longitudinal pitch of MicroSpeed connectors is 1.0mm and the transverse pitch is 1.5mm, and the differential signal pairs can be arranged horizontally or vertically. Optimized crosstalk behavior is achieved with a vertical (transverse to longitudinal direction) configuration of the signal pairs, and the pairing arrangement of signal and shield contact pairs.

While the signal contacts are made in SMT, the user can select between two terminal options for the shielding, depending on the application: SMT or THR connection. The shielding pins also assure robust strain relief of the connector. The length of the connector modules is 27mm with 50 signal contacts and 2 shield plates, and they can be easily lined up with virtually no loss of board space.

The MicroSpeed male and female connectors are supplied in tape-on-reel packaging, and additional design features of the fully automatic placement include black insulating bodies made of LCP for fast and dependable visual recognition, and a pre-mounted placement aid for easy gripping. ERNI provides SPICE models and evaluation boards as design support for this family of high-speed connectors.

Large volume price will start at $ 9.50 US Dollars for mated connector pair.

About ERNI Electronics
ERNI Electronics is a leading global manufacturer and worldwide supplier of a broad line of interconnects for the telecommunications, data communications, computer, industrial and medical markets. ERNI has manufacturing operations in Europe as well as sales offices in over 40 countries. ERNI products are also marketed via a worldwide network of representatives and leading distributors. Further information is available at www.erni.com.

Company Contact -- Europe: ERNI Electronics GmbH
Magnus Henzler
Seestrasse 9 73099 Adelberg
Germany
Tel.: +49 (0)7166 / 50-583
Fax: +49 (0)7166 / 50-103 Email: info@erni.de

Company Contact -- Asia/Pacific:
ERNI Asia Holding Pte Ltd Y H Koh
Blk 4008 Ang Mo Kio Avenue 10
#04-01/02 Techplace I
Singapore 569625
Tel.: +65 6 555 5885 Fax +65 6 555 5995
Email: info@erni-asia.com


Related