SMT LGA Socket accommodates Intel Core i7 and Xeon 5 CPUs.
Press Release Summary: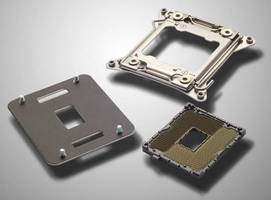 Validated to Intel® design guides, SMT LGA 2011 socket is designed for Intel® Core(TM) i7 and Xeon 5 CPUs. Contacts include solder balls for surface mounting onto PCB, and hex-ball array promotes housing strength while minimizing occupied space. Integrated lever mechanism generates Z-axis compression load, and bolster plate limits PCB bowing during compression. Product is available with either 15 or 30 µin. gold contact plating.
---
Original Press Release:
TE Connectivity Develops LGA 2011 Socket for Intel Corporation's Core I7 and Xeon 5 CPU Processors
HARRISBURG, Pa. - TE Connectivity (TE), formerly Tyco Electronics, announces new surface-mount LGA 2011 socket for Intel Corporation's Core i7 and Xeon 5 CPU processors. "The LGA 2011 socket is validated to Intel's design guides," says Billy Hsieh, TE's product manager. "And TE is one of few suppliers capable of offering this technology." The contacts of TE's new LGA 2011 socket include solder balls for surface mounting onto a printed circuit board (PCB). The product's hex-ball array provides stronger housing and minimizes the space that the 2011 balls occupy. The socket boasts an integrated lever mechanism (ILM) that generates the Z-axis compression load and its robust bolster plate limits PCB bowing during compression. The product is available in either 15u'' or 30u'' gold contact plating for enhanced product performance. TE provides a complete socket and hardware system, while the ILM and backer plate must be ordered separately. For detailed information on TE's LGA 2011 socket, please visit www.te.com/catalog/minf/en/493?BML=10576,17578,17575. About TE Connectivity TE Connectivity is a global, $12.1 billion company that designs and manufactures over 500,000 products that connect and protect the flow of power and data inside the products that touch every aspect of our lives. Our nearly 100,000 employees partner with customers in virtually every industry-from consumer electronics, energy and healthcare, to automotive, aerospace and communication networks-enabling smarter, faster, better technologies to connect products to possibilities. More information on TE Connectivity can be found at http://www.te.com/. TE Connectivity and TE connectivity (logo) are trademarks of the TE Connectivity Ltd family of companies. Other logos, product and/or company names might be trademarks of their respective owners.
Related