SMT LED Chandelier Bulbs produce 360° beam of light.
Press Release Summary: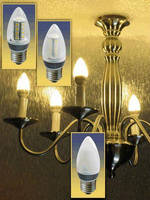 Operating on 3 W, DEC02SM-B11E26 series SMD LED Chandelier bulbs feature flame-tip shape and UV-protected plastic lens covering that allows LEDs to shine in multiple directions. Halogen-white-light, 2,500-2,700 K bulbs create 174-202 lumens, have 50,000 hr lifespan, 135° viewing angle, resist shock and vibration, and are unaffected by frequent switching and environmental extremes. They are available in water-clear flame, frosted flame, or milky-white flame lens.
---
Original Press Release:

New SMD LED Flame-Tip Chandelier Bulbs Produce 360° Beam of Light Using Only 3 Watts



TORRANCE, Calif - LEDtronics® announces Flame Tip Surface Mount LED Chandelier Bulbs that offer rich, beautiful lighting in many versatile applications. The DEC02SM-B11E26 series SMD LED Chandelier bulb comes in a flame-tip shape, UV-protected, plastic lens covering that allows the LEDs to shine three-dimensionally in multiple directions, while still being protected from the environment. This hardy bulb is perfect in any situation that allows for standard 26mm screw-in base, 120-volt AC attachments, such as decorative chandelier lighting, wall sconces and picture lights.

These halogen-white-light LED Flame Tip Chandelier bulbs directly replace E26 Edison-base incandescent bulbs, allowing a long lifespan of up to 50,000 hours. Furthermore, being made with SMD LEDs, they are resistant to shock and vibrations, and unaffected by frequent on-and-off switching. The DEC02SM-B11E26 series SMD LED Chandelier bulb consumes only 3 watts of power while still creating 174 to 202 lumens of light! These bulbs require no retrofitting kits and will install like a normal bulb, allowing you to replace old and outdated power-hungry incandescent bulbs painlessly and quickly.

The Flame Tip E26 Edison screw-base LED Chandelier Bulb comes in halogen white (2,500 to 2,700 Kelvin) LED light colors. Other LED light colors are also available through custom ordering. The bulb series provides a 360° radial beam of light and 135° viewing angle, and a choice of lens styles: Water-Clear Flame, Frosted Flame or Milky-White Flame lens.

Solid-state design renders LEDs impervious to shock, vibration, frequent switching, and environmental extremes. They boast an average life span of 100,000-plus hours (11 years), up to 50,000 hours for white LED light color. LED lamps operate 20 to 30 times longer than the equivalent incandescent lamp! Savings from reduced maintenance costs and downtime quickly return their capital investment expenditure! LED lamps produce almost no heat and require 80%-90% less operating power than equivalent incandescent lamps, making them as friendly to the environment as they are to the operating budget. Unlike incandescent bulbs, LED lamps contain no lead, mercury or other toxic metals.

The DEC02SM-B11E26 series LED chandelier bulbs carry a 3-year limited warranty and retail for $32.50 each. Large-quantity order discounts are available. Availability is stock to 4-6 weeks for special requirements. For additional information on how to incorporate Flame Tip E26 Edison screw-base LED Chandelier Bulbs into your product designs, contact LEDtronics toll free at 1-800-579-4875, telephone 310-534-1505, fax at 310-534-1424, email at webmaster@ledtronics.com or mail at LEDtronics Inc., 23105 Kashiwa Court, Torrance, CA 90505. Visit our website at LEDtronics.com.

For more details and technical data, visit the direct web link to the DEC02SM-B11E26 chandelier bulbs: http://www.ledtronics.com/products/ProductsDetails.aspx?WP=C944K514

About LEDtronics®

Founded in 1983 in Torrance, California, USA, LEDtronics has been a pioneer in the design and manufacturing of direct incandescent-replacement, energy-saving, eco-friendly, green-technology LED (Light Emitting Diode) lamps and bulbs. Our Solid State Lighting products are available in a wide range of bulb sizes for multiple lighting applications. We offer LED light bulbs, lamps, indicators and lighting products for many applications, industries and markets: Industrial OEM, railroad and roadway LED lighting products such as, streetlight luminaires, post-top LED bulbs; architectural office lighting fixtures, wall washing and security lights, and T8 fluorescent-tube-replacement LED products.


More from Electrical Equipment & Systems