SMT Interconnect Headers feature .030 in. diameter pins.
Press Release Summary: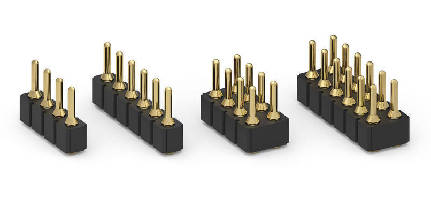 With gold-plated pins assembled in high-temperature thermoplastic, single row Series 349-10-1XX-00-560000 and double row Series 449-10-2XX-00-560000 plug into mating socket strips which come in through-hole, right-angle, and SMT configurations. Header and socket combinations are rated 4.5 A/pin for 10°C temperature rise above ambient. To promote optimal solder joints, headers have .008 in. floating pin design that compensates for peaks and valleys found in uneven solder paste application.
---
Original Press Release:
Mill-Max SMT Headers with .030
Mill-Max has added a heavier gauge option to our line of SMT interconnect headers with the introduction of two new connectors.  Our latest SMT male pin header strips feature sturdy .030" (0,76mm) diameter pin tails which plug easily into a variety of standard Mill-Max mating socket strips.  The mating sockets are available in through-hole, right-angle and SMT configurations.  These header and socket combinations are rated at 4.5 amps per pin for a 10° C temperature rise above ambient.

The headers feature a round stub-tail termination providing the benefit of a reduced solder footprint inside the package outline.  The .008" floating pin design compensates for the peaks and valleys found in uneven solder paste application on the board surface, promoting good solder joints.  The .030" (0,76mm) diameter pins provide extra strength for applications where there is the potential for rough handling, such as for field service repairs or blind mating situations. 

With gold-plated pins assembled in high temperature thermoplastic, these headers are suitable for all SMT soldering operations and provide a highly reliable and durable connection.  The headers are available in single row, series 349-10-1XX-00-560000, (2-64 positions) or double row series 449-10-2XX-00-560000 (4-64 positions: 2x2 – 2x32.)

For more information, please visit: www.mill-max.com/PR634.

Mill-Max is the leading US manufacturer of machined interconnect components with a vertically integrated manufacturing facility headquartered at 190 Pine Hollow Rd., Oyster Bay, NY  11771.  Its full product line includes spring-loaded connectors, SIP, DIP, PGA and BGA sockets, board-to-board interconnects and pin headers, surface mount and custom products, PCB pins and receptacles, solder terminals, wrapost receptacles and terminals.  The company's complete manufacturing facility includes engineering, tooling, primary and secondary machining, stamping, plating, injection molding, and assembly.

For more information, contact Robin D. Ritter, Marketing Coordinator, Mill-Max Mfg. Corp.,
Tel: 516-922-6000 ext. 211; Fax: 516-922-9253;
Email: rritter@mill-max.com; www.mill-max.com
Related