SMT Fuses provide secondary-side circuit protection.
Press Release Summary: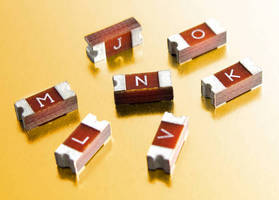 Comprised of 20 AC/DC fuses with current ratings from 0.5-20.0 A, 2410SFV series helps provide secondary-side circuit protection in high-voltage, high-current designs. Products come in 6.1 x 2.5 mm SMD package and offer nominal cold resistance (DCR) from 0.0034-0.231 ohms as well as high-interrupt current from 50-300 A. Rated from -55 to +125°C, fuses provide inrush current withstand capability that minimizes nuisance tripping during transient overload conditions.
---
Original Press Release:

TE Circuit Protection's New Surface-Mount 2410 Fuses Provide High I2t Characteristics



MENLO PARK, Calif. - TE Circuit Protection announces the 2410SFV family of 20 new AC/DC fuses featuring current ratings from 0.5A to 20.0A. The 2410 fuses help provide secondary-side circuit protection, conserve board space and reduce design costs in a broad array of high-voltage, high-current designs. Typical applications include home appliances (LCD TV LED backlighting, LCD TV CCFL backlighting) and LED lighting, as well as office automation, industrial and medical equipment.

Available in an ultra-thin (6.1x2.5mm) SMD package, 2410SFV fuses offer I2t characteristics as high as any similar SMD device on the market. They also offer a nominal cold resistance (DCR) from 0.0034W to 0.231W and a high-interrupt current from 50A to 300A. Rated for operation at temperatures ranging from -55°C up to 125°C, the fuses' high-inrush current withstand capability minimizes nuisance tripping during transient overload conditions.

As wire-in-air (WIA) fuses, the 2410SFV products feature a straight wire configuration. As surface-mount devices they provide a rugged, single-piece package that speeds assembly time and is compatible with standard pick-and-place SMD processes. Additionally, the 2410SFV fuses' structure minimizes the risk of the end cap of the device becoming dislodged, a feature not offered by most competitive devices. In accordance with industry standards and trends for "green" products, the fuses are 100% lead- and halogen-free and are RoHS-compliant and UL listed.

"Today's consumer, appliance, lighting, power and telecom industries increasingly demand designs that save board space and assembly costs and also meet stringent performance, safety and environmental requirements," said Jason Zhao, Senior Product Manager. "These new AC/DC fuses offer a wide range of cost and performance benefits. In addition to providing a comprehensive selection of 2410SFV fuses with market-leading features, TE Circuit Protection offers global design support to help applications engineers identify the best solution for their design challenges."

Price: $0.55 for 2Kpcs
Availability: Available now
Delivery: 8 weeks ARO

ABOUT TE Connectivity
TE Connectivity is a global, $12.1 billion company that designs and manufactures over 500,000 products that connect and protect the flow of power and data inside the products that touch every aspect of our lives. Our nearly 100,000 employees partner with customers in virtually every industry-from consumer electronics, energy and healthcare, to automotive, aerospace and communication networks-enabling smarter, faster, better technologies to connect products to possibilitie.