SMT Feeder Calibration System tests the feeder at machine speed.
Press Release Summary: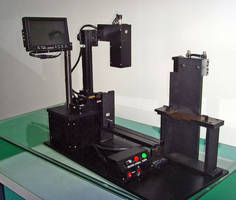 Featuring modular design which can be configured to test wide range of feeders, SMT Feeder Calibration System helps the user to control feeder maintenance. Enabling user to test different types of feeder using different modules that plug into unit, product increases production yields.
---
Original Press Release:
ETC Offering New SMT Feeder Calibration System
It has been proven that badly performing feeders are the most common reason for placement machine downtime. Poor calibration of feeders can lead to mis-picks, component waste and even machine damage. That's why Electronic Technology Corporation (ETC), has developed a solution in the new SMT Feeder Calibration system. It empowers the user to take control of feeder maintenance and increase production yields without having to send those feeders out for costly repairs.
In making the announcement, Terry Jeglum, President and CEO of ETC, said, "Our new SMT Feeder Calibration system is a unique tool for dynamically testing and calibrating feeders in-house. Poor calibration of feeders means trouble; but with our new SMT Feeder Calibration system, most problems including machine, component, and product damage can be avoided, and especially costly down-time when repairs need to be made or feeders must be sent out for repair servicing."
Jeglum adds that "We know for a fact that your machine performance will directly improve your through-put if you calibrate all your feeders with this system. The easy-to-use on-screen software system lets you test your feeders to check correct pick positions."
The SMT Feeder Calibration system features a unique modular design that can be configured to test a wide range of feeders by different manufacturers. The user changes the type of feeder to be tested by simply purchasing a different module that plugs into the unit for easy test and calibration; then it dynamically tests the feeder at machine speed. A wide range of different modules are available with quick delivery. For more information, contact Terry Jeglum at Tel: 630-584-2050, or E-mail: jeglum@ameritech.net.
Electronic Technology Corporation (ETC) is a well-known consulting firm and supplier of new and used equipment to the SMT electronics manufacturing industry. ETC is also a manufacturers' representative dedicated to providing customers with the most technologically advanced electronic production equipment, materials and technology from suppliers worldwide.
About Electronic Technology Corporation
For more than 32 years, ETC has specialized in quality technology products and services that keep their customers 'connected'. ETC has Field Service Engineers available for nearly every SMT discipline, and can also service SMT business needs, and is headquartered in St. Charles, Illinois, just west of Chicago, strategically located in the center of the country to conveniently serve their customers clients effectively and efficiently from coast to coast.
Contact
Terry Jeglum
President/CEO
Electronic Technology Corporation. (ETC)
38W553 Hilltop Dr.
Saint Charles, IL 60175
Phone: (630) 584-2050
Email: admin@etcfab.com
More from HVAC