SMT Diode Packages suit aerospace and military applications.
Press Release Summary: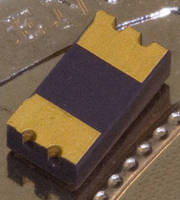 Providing packaging alternative for high-reliability space-qualified SMT diodes, DLCC (diode leadless chip carrier) Series comes in fully hermetic SMT ceramic package and is suited for military, aerospace, avionics, and high-temperature applications. Design fits standard solder footprint of existing MELF-type devices and features thermal vias that aid heat transfer to solder pads. Also, castellated terminations ensure solder meniscus between PCB and device is visible for inspection.
---
Original Press Release:

Announcing the DLCC Family of Diode Leadless Chip Carrier Packages for Space, Aerospace, High-Temp and Military Applications



Diode leadless chip carrier (DLCC) packages provide drop-in replacement for MELF-style devices...

LEICESTERSHIRE, UK - Providing design engineers with a superior packaging alternative for high-reliability space-qualified surface mount diodes, semiconductor manufacturer TT electronics Semelab has developed a series of ceramic diode leadless chip carrier devices for military, aerospace, avionics and high-temperature applications. Designated the DLCC Series, the diodes provide enhanced thermal performance and better solderability in a fully-hermetic surface mount ceramic package designed to fit the standard solder footprint for existing MELF-type devices.

"Along with our standard range, we can also find solutions for difficult-to-source components," said Rob Rhodes, marketing manager at TT electronics Semelab. "The DLCC2 and 3 are generic outlines which can be used to incorporate almost any silicon or silicon carbide die, which we will then qualify to our own high rel wafer acceptance test levels."

Advanced packaging design features of the DLCC Series diodes include thermal vias that improve heat transfer to the solder pads, reducing the diode's junction temperature and increasing its operating lifetime. In addition, the DLCC package features castellated terminations that ensure the solder meniscus between the PCB and the device is visible for inspection. Full specifications are available at www.semelab.com/mil/dlcc.shtml.

The DLCC packages take full advantage of the proven high reliability pedigree of the LTCC surface mount technology, which is easily integrated for automated assembly. Semelab has taken the existing standards for ceramic surface mount package manufacture and added additional design features to enhance thermal performance, presenting a competitive advantage for high reliability applications. The DLCC design fully utilizes the solder footprint for the MELF package and as such presents a drop in replacement for existing board designs. A qualification report can be viewed at http://www.semelab.co.uk/pdf/diode/dlcc/Qualification.pdf.

Semelab's DLCC Series diodes are manufactured and screened to the stringent specifications of in house screening and conformance flows in accordance with multiple international standard bodies, including ESA and MIL-PRF-19500. Visit www.semelab.co.uk/pdf/misc/documents/hirel_and_screening_options.pdf for details.

Samples are available now. To order or for more information about Semelab's DLCC Series diodes, visit www.semelab.com or contact TT electronics' North American sales office at 4222 S. Staples St., Corpus Christi, TX 78411; call 361-985-3166; or email sales@ttelectronics-na.com.

Semelab is a leading global manufacturer of high-reliability power semiconductors and modules, RF power MOSFETS, and optoelectronic components to the military/aerospace, medical and communications markets worldwide. Semelab was acquired by TT electronics in 2008, and their products are sold in North America through IRC, a TT electronics sister company that has been a long-time supplier of high-reliability electronic components, supported by a comprehensive global sales network of reps and distributors.

More from Agricultural & Farming Products