SMT 2.4 GHz RF Transceiver Module promotes ZigBee adoption.
Press Release Summary: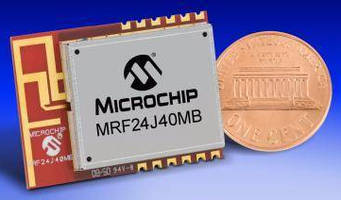 Model MRF24J40MB adds +20 dBm transmit power via integrated power amp and -102 dBm receive sensitivity via integrated Low Noise Amplifier (LNA) to IEEE 802.15.4-compliant transceiver, PCB antenna, and discrete matching circuitry. On software side, certified ZigBee PRO protocol stack provides another option for IEEE 802.15.4-based wireless networks using 16-bit PIC® MCUs. Combination of ZigBee PRO stack and MRF24J40 forms ZigBee PRO Compliant Platform certified by ZigBee Alliance.
---
Original Press Release:

Certified ZigBee® PRO Stack and Longer-Range IEEE 802.15.4 Wireless Module Announced by Microchip Technology



Combination Provides Fully ZigBee PRO Compliant Platform on PIC® Microcontrollers

CHANDLER, Ariz., June 9, 2009 [NASDAQ: MCHP] - Microchip Technology Inc., a leading provider of microcontroller and analog semiconductors, today announced from the Sensors Expo in Chicago two additions to its IEEE 802.15.4 and ZigBee® portfolio for short-range, low-data-rate embedded wireless networking. The MRF24J40MB is Microchip's second 2.4 GHz Radio Frequency (RF), surface-mountable transceiver module. This new module adds +20 decibels per milliwatt (dBm) of transmit power via an integrated Power Amplifier (PA) and -102 dBm of receive sensitivity via the integrated Low Noise Amplifier (LNA) to the proven IEEE 802.15.4 compliant transceiver, PCB antenna and discrete matching circuitry. More transmit power allows designers to expand the range of their IEEE 802.15.4-based ZigBee or proprietary-protocol wireless networks.

High-Resolution Photos and Block Diagrams Available Through Flickr or Editorial Contact: http://www.flickr.com/photos/microchiptechnology/sets/72157619304830592/
The module approach eliminates RF design time, expertise and expense, while accelerating time to market and mitigating development risk. This module is pending agency certification, which is another time and cost savings measure that adds value for the adopter. Microchip makes it easy to combine this module with the perfect balance of microcontroller memory, performance, peripherals and price from among hundreds of its industry-leading 8-, 16- and 32-bit PIC® microcontrollers (MCUs) and dsPIC® Digital Signal Controllers (DSCs).

On the software side, Microchip's newly certified ZigBee PRO protocol stack provides yet another option for IEEE 802.15.4-based wireless networks using Microchip's PIC MCUs. The combination of Microchip's ZigBee PRO stack, the MRF24J40 transceiver radio or transceiver modules, and any of its 16-bit PIC24 MCUs or dsPIC33 DSCs forms Microchip's ZigBee PRO Compliant Platform, as certified by the ZigBee Alliance.

"Microchip is enabling the adoption of embedded wireless networking, by providing our PIC microcontroller customers with more easy-to-use, agency-certified 2.4 GHz wireless modules," said Steve Caldwell, director of Microchip's RF Products Division. "This ZigBee PRO Compliant Platform, consisting of our newly certified ZigBee PRO stack and our 16-bit family of PIC microcontrollers, allows customers to quickly and easily develop ZigBee wireless networks for the new Smart Energy and Home Automation markets."

In addition to providing the ZigBee protocol stacks, designers who don't require interoperability or large-node networks can save on certification and microcontroller memory costs by utilizing Microchip's free and proprietary MiWi(TM) and MiWi P2P IEEE 802.15.4-based protocol stacks. All of Microchip's ZigBee and proprietary stacks are available for download today from its online Wireless Design Center at www.microchip.com/Wireless.

Applications
A variety of wireless networking applications are appropriate for Microchip's IEEE 802.15.4/ZigBee solutions, such as AMR/AMI metering, industrial monitoring and control, home and building automation, remote control, low-power wireless sensor networks, and lighting control. The new MRF24J40MB module offers customers extended range for distant-node communication, while eliminating design and certification costs, reducing risk, and enabling quick time to market.

Development Tools
Designers can integrate the MRF24J40MB transceiver module with the appropriate 16-bit PIC24 MCUs, dsPIC DSCs and 32-bit PIC32 MCUs, by purchasing the new MRF24J40MB PICtail(TM) Plus Daughter Board (part # AC163028-2), also announced today. This daughter board is designed to plug into the Explorer 16 Modular Development Board, which has available processor plug-in modules for all of Microchip's 16- and 32-bit families. Additionally, the ZENA(TM) Wireless Network Analyzer is available to graphically display wireless network traffic, analyze the complete network traffic and graphically display decoded packets. All of these tools are available today at www.microchipdirect.com.

Module Availability & Pricing
Engineering samples of the MRF24J40MB transceiver module are available today, and volume production is expected to be available in July. Budgetary pricing starts at $13.09 each in 10,000-unit quantities. For additional information, contact any Microchip sales representative or authorized worldwide distributor, or visit Microchip's Web site at www.microchip.com/Wireless.

Microchip Customer Support
Microchip is committed to supporting its customers by helping design engineers develop products faster and more efficiently. Customers can access four main service areas at www.microchip.com. The Support area provides a fast way to get questions answered; the Sample area offers evaluation samples of any Microchip device; microchipDIRECT provides 24-hour pricing, ordering, inventory and credit for convenient purchasing of all Microchip devices and development tools; finally, the Training area educates customers through webinars, sign-ups for local seminar and workshop courses, and information about the annual MASTERs events held throughout the world.

About Microchip Technology
Microchip Technology Inc. (NASDAQ: MCHP) is a leading provider of microcontroller and analog semiconductors, providing low-risk product development, lower total system cost and faster time to market for thousands of diverse customer applications worldwide. Headquartered in Chandler, Arizona, Microchip offers outstanding technical support along with dependable delivery and quality. For more information, visit the Microchip website at www.microchip.com.

Note: The Microchip name and logo, PIC, and dsPIC are registered trademarks of Microchip Technology Inc. in the USA and other countries. MiWi, PICtail, and ZENA are trademarks of Microchip Technology Inc. All other trademarks mentioned herein are the property of their respective companies. This device has not been authorized as required by the rules of the Federal Communications Commission. This MRF24J40MB module is not, and may not be, offered for sale or lease, or sold or leased, until authorization is obtained.