Smith Equipment to Showcase Cutting, Heating, and Welding Products at FABTECH 2011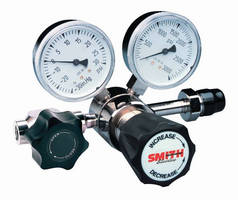 WATERTOWN, SD. - Smith Equipment announced it plans to display its cutting, heating and welding products, along with various alternate fuel outfits and gas regulators at FABTECH 2011, November 14 to 17 in Chicago. Smith Equipment will share booth 5950 with Bernard, Hobart Brothers, Tregaskiss and Weldcraft. Of special interest to the fabricating and manufacturing industry are showcased products, including:

o Alternate fuel outfits: Designed for use with propane, propylene and natural gases, Smith Equipment alternate fuel outfits are available in medium- and heavy-duty models, as well as an economy version. Each outfit includes a torch and torch handle, regulators, hoses, a toolbox and additional accessories designed to assist in reliable cutting, heating and brazing performance.

o Mizon flowmeter regulator and flowgauge regulators: Smith Equipment designed these regulators to accompany a special shielding gas mixture developed by Linde. The gas eliminates ozone emissions in MIG welding applications, offering greater protection for the welding operator and the environment.

o Specialty gas regulators: Smith Equipment's specialty gas regulators include its Silverline regulators, which are available in up to 10,000 possible configurations. Each of these specialty gas regulators provides gas purity levels up to 99.999 percent and is available in general-purpose, high purity, analytical and high purity stainless steel corrosion resistant models. Smith Equipment also offers a 3-stage nitrogen transformer blanketing regulator.

About Smith Equipment

Smith Equipment is a manufacturer of torches, tips and gas regulators designed for cutting, welding, heating and brazing applications. The company is located in Watertown, SD and is a wholly owned subsidiary of Illinois Tool Works (ITW). Based in Glenview, Ill., ITW is a multinational manufacturer of a diversified range of value-adding and short-lead-time industrial products and equipment.

For more information about Smith Equipment products, visit smithequipment, email: smith@smithequipment.com, call 605-882-3200 or write: Smith Equipment, 2601 Lockheed Avenue, Watertown, SD 57201-5636.

More from Architectural & Civil Engineering Products