Smelt Spout System promotes steam conservation.
Press Release Summary: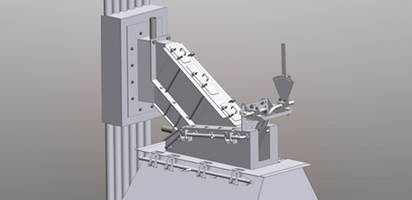 Suited for new construction or as retrofit for existing recovery boilers, Valmet Smelt Spout System consists of smelt spout, upper/lower micro hoods, hood showers, and ShatterMax(TM) dual shatter jet. Insertable and water-cooled smelt spout's tip projects inside furnace, minimizing wear on tube openings as well as smelt leak risk. Each ShatterMax(TM) dual shatter jet nozzle is rated for less than 400 lb/hr flow with 160 lb steam, and adjustable shatter jet brackets enable accurate positioning.
---
Original Press Release:
Valmet Smelt Spout System Upgrade
Quieter Spout Deck with Substantial Steam Savings Charlotte, NC - Valmet (formerly Metso Power), a global supplier of high-performance solutions for the pulp and paper industry, announces the innovative Valmet Smelt Spout System, offered for new construction or as a retrofit for existing recovery boilers of any OEM. The system, consisting of the smelt spout, upper/lower micro hoods, hood showers, and ShatterMax(TM) dual shatter jet, provides a safe and reliable product with a significant steam savings. Customers are impressed with the quieter spout deck and shorter maintenance time required for spout replacement. The core of the upgrade is the robust, insertable, water-cooled smelt spout. The tip of the spout projects inside the furnace, minimizing both wear on the tube openings and the risk of having a smelt leak. The spout design is clean and simple with no tube swages or tube attachments such as stack studs, crotch plates, or castings. It has a deep U-shaped trough with a steep 35° slope that is unique to the Valmet design. The spouts are designed to maintain a quick, steady and uniform smelt stream, giving better shattering capabilities and reducing crusting in the trough. Engineered with a four-way taper, the insertable spout and integrated refractory seal are easily removed for replacement, resulting in lower maintenance time and cost. Each Valmet Smelt Spout System has two micro hoods attached to seal the transition between the furnace and dissolving tank, keeping the smelt stream covered, as well as reducing tramp air leakage. This enclosed arrangement is ideal to maintain reduction efficiency and minimize excess load on the vent stack scrubber. The exaggerated sloped sides of the dissolving tank collars are designed to eliminate ledges and areas where smelt could accumulate and cause operational issues. Both micro hoods easily bolt to the spout and grow with the furnace during thermal expansion. Valmet's upper hood doors are outfitted with three mini doors used for inspection and spout cleaning. These doors are designed to be left closed to reduce the intake of cool ambient air and to protect the operators from smelt splatter. However, any of the mini doors can be arranged to accommodate each mill's specific needs, such as open ports for spout cameras visibility. The compact lower hood design is equipped with a free-floating flange to seal the gap between the hood and dissolving tank opening, while permitting movement in all directions. As the spout assembly grows downward with the expanding boiler, the floating flange comes to rest on top of the collar. An externally mounted shower bar is installed on both sides of each lower hood and collar to keep the side walls clean. This drastically reduces the amount of equipment inside the hoods and keeps the operators protected while allowing them to easily remove the shower bars for cleaning and replacement while the unit is online and smelting. The ShatterMax(TM) dual shatter jet is the focal point of Valmet's Smelt Spout System, offering a substantial steam savings, which alone can pay for the retrofit in less than one year. Each shatter jet nozzle is rated for less than 400 lbs/hr flow with 160 lb steam and is typically fully operational with only one of the two nozzles in service. Given the extreme consequences of shatter jet failure and the need for dependable operation, the second shattering nozzle is designed to be supplied by an alternative steam source as recommended by BLRBAC. The back-up shatter jet supply line can be equipped with an automated control valve for emergencies and is designed for use during heavy runoffs or if a failure/loss occurs in the primary steam supply system. The highly adjustable shatter jet brackets enable the nozzles to be accurately positioned, allowing the steam consumption to be throttled back to achieve the greatest steam savings while maintaining proper smelt shattering. The ShatterMax(TM) is positioned at such an angle as to direct the smelt shattering far down inside the dissolving tank and not inside the lower hood, which usually decreases its life span. An enormous benefit of this configuration is mill operators can safely inspect and tune the shatter jet operation without putting themselves in a dangerous position. Improper shattering is directly associated with excessive fuming, decreased density control, a louder spout deck, increased wear/build-up and ultimately more short- and long-term maintenance. The ShatterMax(TM) dual shatter jets are also available as a stand-alone retrofit project for any existing recovery boiler. "What really sets us apart is the low-maintenance/high-reliability smelt spouts, the sleek micro hood design and the unmatched ShatterMax(TM) dual shatter jets," says Dan Morrison, Valmet's Smelt Spout Product Manager. "This is our best-selling product and is raising the bar on what customers should expect from their smelt spout system performance." The spout deck is one of the most dangerous areas around a recovery boiler and should be equipped with the best, most highly developed equipment on the market. The Valmet Smelt Spout System with ShatterMax(TM) dual shatter jets is one of several new SMaRT(TM) recovery boiler lower furnace products Valmet is offering to revamp the pulp and paper industry. For information on this and all Valmet products, please visit http://www.valmetpowerservicena.com/index.html.
Contact This Company Download Spec Sheet
More from Mechanical Components and Assemblies