Position Sensors / Detectors / Transducers
SMD Rotary Position Sensor supports broad customization.
Press Release Summary: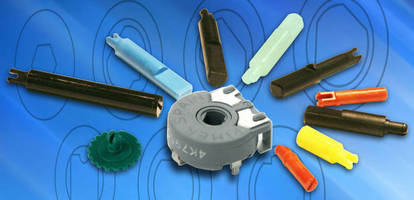 Housed in dust-proof enclosure, PS15 Series provides surface-mountable solution for detecting changes in angle and position and converting them into voltage output. It can be configured for any control or position feedback requirement and is available with 7 different rotor designs and 15 shaft styles. Featuring 240° electrical angle and rotational angle of 265º ±5º, sensor also supports optional detent feature which adds click sensation for each unique position.
---
Original Press Release:

PIHER Introduces Surface Mount Rotary Position Sensor



Featuring Flexible Configuration Capabilities in Miniature Package

Libertyville, Ill. - Responding to the widespread use of surface mount technology for electronics manufacturing, PIHER North America is introducing a SMD version of its popular PT15 Potentiometer. The new device, the PS15 Rotary Position Sensor, features configurable capabilities for maximum design flexibility in a small 15mm package. The sensor offers a new surface mountable solution for detecting changes in angle and position and converting them into a highly reliable voltage output. It can be processed by standard automated placement equipment and reflow (or lead-free reflow) soldered. For applications where rotor angle is critical, locating pins are available.

The PS15 Series is available with seven different rotor designs and 15 shaft styles with choice of nine colors in standard or UL94 compatible plastic. This offering allows PIHER to configure a custom sensing solution for virtually any control or position feedback requirement. The result is a customized sensor that maximizes board density, reduces weight and eases assembly while achieving the engineer's critical sensor design goals for the application.

An optional detent feature provides further customization. Detents not only add a crisp "click" sensation for each unique position without affecting the sensor specification or output, but also offer significant savings in both cost and space; and are particularly advantageous in industrial and domestic power tool applications to prevent accidental rotation. Piher can design up to 27 different detent configurations anywhere within the electrical rotation.

"The PS15 allows engineers more design freedom because of the significant configurability provided with our wide array of shafts, rotors and detents," says Dave Meehan, Applications Engineer with PIHER North America. "It is often difficult for engineers to locate all the features they want in a 15mm package size, but we can meet their exact requirements by tooling either a rotor, shaft and detent configuration."

In developing the PS15, PIHER's engineers paid particular attention to the surface mount land patterns (footprints or pads) that define the locations where components are soldered to the PC board. The PS15's land patterns have been optimized to maximize solder joint strength, clean ability, testability, and repair - all critical features in the overall produceablity of the board assembly.

The PS15 Rotary Position Sensor offers application for both feedback and control where frequent adjustment or feedback is required. The shaftless design allows for employment of different engagement mechanisms, such as a customized shaft, a motor control, a human interface (such as knob) adjustment, or a mechanical arm position locator. The sensor can also control variable outputs including frequency, change in motor speed or volume. Typical applications include test and measurement equipment, consumer electronics, appliances, small engines, robotics, motion controllers, automation equipment, electronic instrumentation and medical equipment control panels.

Housed in a dust-proof enclosure, the PS15 comes standard with a 240 degree electrical angle, 10k life cycle, and linear, log and anti-log electrical tapers. Other performance characteristics include a rotational angle of 265º ±5 º, an operating temperature of -40º + 85 ºC, and tolerances of ±30%. In addition to the wide selection of rotors and detents other selection options include SPDT switch, 100k life cycle, custom tapers, measured linearity, and different electrical angles. The device is both RoHS and REACH compliant.

Pricing for the PS15 Rotary Position Sensor starts at $0.460 each in typical 10k per annum quantities and can be packaged in tape and reel configurations. Production lead times are typically 8-10 weeks. Full engineering details are available at: http://www.piher-nacesa.com/pdf/PS15_shortform.pdf.

For further information contact Piher North America, 1640 Northwind Blvd., Libertyville, IL 60048 USA, Tel: +1-847-918-9300, Fax: +1-847-918-9433, Email: paul.cain@meggitt.com, www.piher.net

About Piher
Piher North America, a company of Meggitt PLC, is a specialty manufacturer of position sensor and control solutions for the worldwide Land Vehicle and Appliance markets. Our products are typically employed for HVAC (Climate Control), AFL (Adaptive Front Lighting), Infotainment and Seat Memory and Heating in the Automotive industry and for human Interface applications in the Consumer Electronics, Major Appliances, Power Tools and Industrial/Instrumentation markets. www.piher.net

About Meggitt PLC
Meggitt PLC, headquartered in the UK, is an international group operating in North America, Europe and Asia. Known for its engineering expertise in extreme environments, Meggitt is a world leader in the aerospace, defense and electronics industries. www.meggitt.com

More from Software