SMD Power Inductors feature metal-hybrid construction.
Press Release Summary: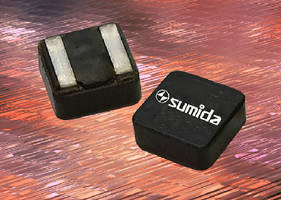 With maximum size of 4.3 x 4.3 x 3.1 mm and saturation current of nearly 19 A for 0.24 µH value, CDMT40D20 Series meets requirements of portable smart devices, DC-DC converters, and communication hubs. Two kinds of metal materials are used in over-mold process to achieve high-current performance and high magnetic shielding. Featuring full-rated temperature range of -40 to +125°C, RoHS-compliant devices provide inductance values from 0.22–4.7 µH and DCR as low as 5.5 mΩ at 20°C.
---
Original Press Release:

Metal Hybrid SMD Power Inductors Offer High Efficiency, High Current and Small Size



The Sumida CDMT40D20 Series Power Inductors are the first of a new family of components, designed to meet the demanding requirements of today's portable devices and communications hubs.  Exclusive metal-hybrid construction provides effective magnetic shielding with DC resistance lower than conventional SMD inductors. This can improve circuit battery life to a level comparable to larger inductors.  Saturation current for the 0.24µH value is nearly 19 amps.  Maximum size for all values is just 4.3 x 4.3 x 3.1 mm. 



The CDMT40D20 has the lowest loss performance in the industry for inductors in its size class. Two kinds of metal materials are used in the over-mold process in order to achieve high-current performance and high-magnetic shielding.  Wire gauge varies with device inductance.



Inductance values range from 0.22 µH – 4.7 µH. DCR is as low as 5.5mΩ (typ.@ 20°C). The device is RoHS compliant and halogen-free. The CDMT40D20 Series offers a full-rated temperature range of -40° to +125°C, and solder reflow temperature to 260°C peak. Complies with IPC/JEDEC Moisture Sensitivity Level 1, for unlimited floor life at ≤30°C/85% RH. 



Applications include portable smart devices, telecommunications base stations, servers, SSD, DC-DC converters, and other designs requiring the combination of shielding, high current and very low profile. Standard packaging is carrier tape on 7.0"diameter reels; 500pcs per reel.



Like other Sumida products, CDMT40D20 Series power inductors meet or exceed the highest industry standards for quality and repeatability. Full application engineering support is available.



The CDMT40D20 Series power inductors are available with 30 day delivery. For more information visit: www.sumida.com.  Direct link to data sheet: http://products.sumida.com/products/pdf/CDMT40D20_Ver1%200.pdf.  Sumida America Components Inc. (847) 545-6700, E-mail: sales@us.sumida.com.  



Sumida is a leading manufactures electronic components and modules, including inductors and transformers for RF signal and power applications. These devices are used in a range of markets, including communications, automotive, consumer electronics, renewable energy and medical technology.









More from Machinery & Machining Tools