SMD Placement Machine suits protyping to mid-sized production.
Press Release Summary: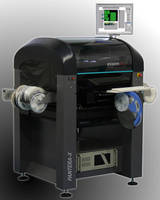 PANTERA-XV SMD placement machine handles entire SMD range from 0201s, at up to up to 4,500 cph, to 50 x 50 mm QFPs with fine pitch of 0.4 mm. Measuring 1 m
2
, machine offers up to 108 feeder slots and automatically recognizes intelligent tape and stick feeders. Its magnetic linear measuring system has resolution of 1 micron, while integrated laser system and bottom-up vision system ensure alignment. Graphic-based software assists with programming.
---
Original Press Release:

Essemtec to Feature Placement Machine for Small to Middle-Sized Production Volumes at NEPCON China 2010



Essemtec, a leading manufacturer of surface mount technology production equipment, announces that it will introduce the PANTERA-XV SMD placement machine in booth 2E30 at the upcoming NEPCON China/EMT China 2010 exhibition and conference - scheduled to take place April 20-22, 2010 in Shanghai, PR China.

The new PANTERA-XV SMD placement machine is designed to directly address prototyping and production runs in middle-sized quantities. The multi flexible PANTERA-XV is the culmination of two highly successful placement machines - the FLX2010 and the CSM7100-V, combining the best from both machine "families": higher placement accuracy and speed, broader application range, high reliability and very low maintenance costs, as well as very short changeover time and excellent cost-performance ratio.

The PANTERA-XV placement machine handles the entire SMD range from 0201s up to 50 x 50mm QFPs with a fine pitch of 0.4mm. Designed especially for the assembly of complex printed boards and for fast changeover procedures, the machine offers a large number of feeder slots (up to 108), in a remarkably small footprint of less than 1 sqm. All intelligent tape and stick feeders will be recognized automatically regardless of the feeder slot being used, this provides for a very fast and error-free changeover process. The tape feeders are motorized and the transport speed is programmable and 0201 components can be reliably placed with a placement speed rated up to 4500 cph.

A further highlight is the even higher equipment precision, provided by the application of more accurate measuring systems. The resolution of the magnetic linear measuring system is 1 micron and the mechanism is not prone to dirt particles and dust and therefore provides high reliability and accuracy. For alignment, an integrated laser system measures small ICs and chip components "on the fly", and for fine-pitch ICs or BGAs a bottom-up vision system is used. Additionally, another vision system can be installed for the automated correction of PCB positions, as well as for the teach-in of component locations.

The PANTERA-XV placement machine can be exactly tailored to match the assembly task by a multitude of options. Just one example of many is the optional dispensing system for solder paste and adhesive which helps to reduce the costs for stencils in prototyping and also allows for higher flexibility. A further example of the optional flexibility is the exchange of the universal standard magnetic PCB holder system for a fast inline transport system, needed for the assembly of larger board quantities.

Usage and programming can be learned quickly as the graphic-based software concept supports an extremely easy machine operation. Also, the programming of tasks is very simple: CAD data of layout software can be directly converted in an appropriate assembly program. In the case that such a data set is not available, the components can be manually placed (i.e. virtually) by means of the integrated camera system and this way the placement position be identified.

The PANTERA-XV SMD placement machine is especially designed for the flexible assembly of small and middle-sized production volumes. With its solid construction and high reliability the equipment can efficiently be used for larger production quantities.

With this machine customers also have access to Essemtec's remote maintenance system and MyEssemtec.com user portal on the worldwide web. Another important item for the customers' decision and production planning is the save-investment program: in the event that production requirements might change over time, Essemtec guarantees a fair price for the used machine, based on its age, in return for a faster piece of equipment. The existing assembly programs can still be used and also the machine/user software is identical. Additionally, Essemtec offers attractive solutions for financing and service.

About Essemtec

Essemtec is a worldwide leader in the manufacturer of Surface Mount Technology (SMT) production equipment. Essemtec specializes in high mix production equipment for Printed Circuit Boards (PCB) using Surface Mount Technology.

Essemtec is the only manufacturer to cover the entire production process, from Printers and/or Dispensers, to Pick-and-Place and Soldering equipment. Therefore, customers benefit from unparallel knowledge and the ability to select, from a single source, a complete process solution to meet their requirements.

More from Machinery & Machining Tools