SMD Isotropic Antenna is designed for keyless entry systems.
Press Release Summary: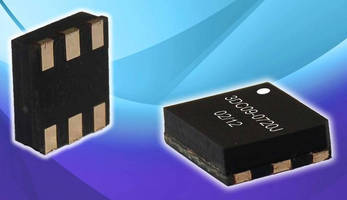 Featuring 3 orthogonal coils, series 3DC09AOI SMD electromagnetic 3D-coil antenna measures 10.5 x 9.5 x 3 mm has side metallization and pads with gold finish. Windings are protected by polymer matrix (vacuum process) for stability, with less than 200 ppm expansion and thermal resistance. Supporting double lead free reflow (270°C peak) and exhibiting stability in temperatures from -40 to 85°C, antenna is offered in standard value of L = 14 mH with sensitivity greater than 9 mVpp/App/m @ 20 kHz.
---
Original Press Release:

New 3DC09AOI SMD Isotropic Antenna for KES (Keyless Entry System)



PREMO has developed a new electromagnetic 3D-coil antenna initially designed for KES applications. The new series 3DC09AOI

Passive Entry System has revolutionized in recent years the vehicle opening systems to become standard within the automotive industry. The key new designs increasingly require lower profiles and more robust parts to electrical and mechanical (up to 1000 drops from more than 1 m on concrete surface).

3DC09AOI is a three orthogonal coils antenna each of them in the three spatial axes.

Surface mount devices (SMD), also offers side metallization, which allows automatic recognition of soldering process AOI (automatic optical inspection). The pads are gold finishing for assuring connectivity between the component and the PCB circuitry in safer and better way. Furthermore the contact surface provided by these pads attached to the lateral meniscus formed during the welding process on the metallization side increase in over 25% the mechanical contact between the component and the PCB in relation to the existing products on the market.

This new antenna, designed in a low-profile form (10,5x9,5x3 mm) offers a high robustness since the windings are fully protected by a polymer matrix (vacuum process) for high stability: less than 200ppm expansion and thermal resistance: supports a double lead free reflow (270 ° C - peak).

The 3DC09AOI offers high stability in temperature (- 40 ° C-> 85 ° C) in a compact and fully protected format (superior protection at IP685).

The 3DC09AOI is offered in a standard value of L = 14 mH with sensitivity greater than 9 mVpp / App / m @ 20 kHz and maintaining a Q factor of 6; this antenna can be manufactured with different electromagnetic values in each axe according to customer needs.

The antenna is AEC-Q-200 qualified (one of the more restrictive electronic components quality standards) for applications in the automotive. This means a warranty and safety in the behaviour and performance of the component in applications both in domestic and industrial environment and of course in automotive.

PREMO will be present at Electronica 2012 in Munich, Germany. The event will take place from 13th to 16th of November. We are pleased to welcome you at our stand 318 in Hall B6. We will be showing our latest innovation in RFID components, inductive components and EMC filters.

For more information about dimensions, electrical diagrams and values chart, please click here.

Download this product datasheet.

Request this product: info@grupopremo.com

See our 3-Axes Transponder Inductors (3DCoils) product range.

Premo Group is a world class company designing and manufacturing inductive components. Our wide range of products as RFID transponder coils, EMC filters, PLC accessories, planar transformers, current transducers and chokes cover most demanding applications in the Automotive, Telecom, and Power Electronics.

More from Communication Systems & Equipment