SMB 16 TB Storage Server integrates into Windows environments.
Press Release Summary: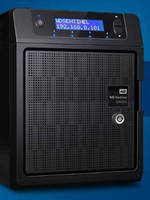 Meeting SMB demands by combining Windows Storage Server 2012 R2 workgroup OS and Intel® Atom™ C2338 Dual Core CPU, WD Sentinel™ DX4200 comes pre-populated with WD Se enterprise-class drives, Windows Storage Spaces for data protection, backup/recovery software, redundant networking ports, and redundant power option. This business-class NAS storage server with boot drive, offering on-premise, centralized storage, lets businesses expand office storage by upgrading drives as demands grow.
---
Original Press Release:

WD'S New Ultra-Compact Storage Server Protects User Data, Seamlessly Integrates Into Windows Environments



WD Sentinel(TM) DX4200 Deploys Fast Processor, Enterprise-class Hard Drives and Integrated Back-up Software



IRVINE, Calif. -- WD(®), a Western Digital (NASDAQ: WDC) company and world leader in storage solutions, is expanding its business-class NAS portfolio with the WD Sentinel(TM) DX4200 storage server. The WD Sentinel DX4200 is a complete solution using Windows Storage Server, designed to meet the demands of today's small-to-medium sized businesses (SMBs) by combining Windows Storage Server 2012 R2 workgroup operating system and the Intel(®) Atom(TM) C2338 Dual Core CPU.



With up to 16 TB of capacity, the WD Sentinel DX4200 enables small businesses to expand their office storage by upgrading the drives as the demands of their businesses grow. The WD Sentinel DX4200 is an ideal backup solution and provides SMBs the advantages of on-premise centralized storage.



"The WD Sentinel DX4200 provides the enterprise grade storage and file services capabilities of Windows Storage Server 2012 R2 workgroup, in a compact package that is ideal for to the SMB segment," said John Loveall, Principal Program Manager, Windows Server and System Center, Microsoft. "We are pleased to work with WD to serve our mutual customers."



Whether personal or professional, digital content and important files are invaluable and often irreplaceable. WD's Sentinel DX4200 utilizing Windows Storage Server provides several ways for businesses to protect their information without user intervention. The device comes pre-populated with WD Se enterprise-class drives, Windows Storage Spaces for data protection, backup software, redundant networking ports and a redundant power option.



Best-in-Class Data Protection



WD Sentinel DX 4200 provides data protection for every device on the small office network and is supported by one-year of WD Guardian Services.



1. The Drives Inside: Pre-configured with WD's award-winning enterprise-class drives for durability and reliability.

2. Storage Spaces: Featuring simple, mirrored and parity volume configurations for data protection and speed.

3. WD SmartWare(TM) Pro Backup: backup and recovery software provides data back-up for up to 25 devices on your network.

4. Redundant Network Connectivity: Dual-redundant Gigabit Ethernet supports teaming modes like Adaptive Fault Tolerance (AFT) which automatically switches to the second network port in the event of a network failure, Adaptive Load Balancing to share the network load and provide fault tolerance in the event of switch port, cable or adapter failure, and Static Link Aggregation for increased network throughput by transmitting over both network adapters.

5. Optional Disaster Recovery Protection: Connect to the small business cloud provided by optional disaster recovery software and store your data offsite for disaster recovery.

6. Boot Drive: Pre-installed activated operating system.



WD Guardian(TM) Services for Small Business

The WD Sentinel DX4200 is backed by WD's world-class customer service and support. All WD Sentinel DX4200 small business customers will get WD Guardian Pro for one year from the time of the first call. WD Sentinel customers may wish to upgrade their service plan to one of two options:



1. WD Guardian Pro: Offers a one year support agreement with WD service, express parts replacement and priority access to technical support.

2. Guardian Extended Care: Service that extends the product warranty from the standard two-year limited warranty (see support.wdc.com for terms and conditions) to five years.



Price and Availability

WD Sentinel DX4200 small office storage server is available at select U.S. retailers and online at the wdstore.com. MSRP is $1699.99 USD for 8 TB and $2199.99 USD for the 16 TB.



About WD

WD, a Western Digital company, is a long-time innovator and storage industry leader. As a storage technology pacesetter, the company produces reliable, high-performance hard disk drives and solid state drives. These drives are deployed by OEMs and integrators in desktop and mobile computers, enterprise computing systems, embedded systems and consumer electronics applications, as well as by the company in providing its own storage products. WD's leading storage devices and systems, networking products, media players and software solutions empower people around the world to easily save, store, protect, share and experience their content on multiple devices. WD was established in 1970 and is headquartered in Irvine, California. For more information, please visit the company's website at www.wd.com.



Western Digital Corp. (NASDAQ: WDC), Irvine, Calif., is a global provider of products and services that empower people to create, manage, experience and preserve digital content. Its companies design and manufacture storage devices, networking equipment and home entertainment products under the WD, HGST and G-Technology brands. Visit the Investor section of the company's website (www.westerndigital.com) to access a variety of financial and investor information.



Western Digital, WD, and the WD logo are registered trademarks of Western Digital Technologies, Inc. in the U.S. in the U.S. and other countries. WD Sentinel, WD Guardian Services and SmartWare are trademarks of Western Digital Technologies, Inc. in the U.S. and other countries. Other marks may be mentioned herein that belong to other companies. Pictures shown may vary from actual products. Not all products may be available in all regions of the world. Total space available for user content will vary based on RAID/JBOD/spanning configuration chosen. As used for storage capacity, one megabyte (MB) = one million bytes, one gigabyte (GB) = one billion bytes, and one terabyte (TB) = one trillion bytes. Total accessible capacity varies depending on operating environment.



CONTACT:

Heather Skinner

WD Public Relations

949.672.7920

heather.skinner@wdc.com



Bob Blair

Western Digital Investor Relations

949.672.7834

robert.blair@wdc.com





More from Agricultural & Farming Products