SmartPipe+™ Piping System features low coefficient of friction.
Press Release Summary: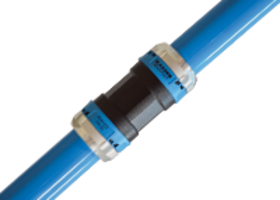 SmartPipe+™ Aluminum Piping System is available in sizes from ¾ in. to 2-½ in. and is used for headers and branch lines. Designed with leak-free connectors and full bore fittings, system can be integrated into steel, copper, or aluminum systems. SmartPipe+™ is made from lightweight materials and simple compression style connections.
---
Original Press Release:
Kaeser's New SmartPipe+™ Now Available
Kaeser Compressors is pleased to announce SmartPipe+™ is now available. SmartPipe+ is a versatile, modular aluminum piping system featuring lightweight materials and simple, compression style connections.
Available in multiple sizes from 3/4" to 2-1/2", SmartPipe+ is ideal for headers and branch lines all the way down to the point of use.
SmartPipe+ is made from smooth, calibrated aluminum and will not rust. It has a low coefficient of friction and provides the best possible laminar flow. The full bore fittings minimize pressure drop while the leak-free connectors prevent costly compressed air loss. SmartPipe+ can easily be integrated into existing steel, copper, or aluminum systems and can easily be modified to accommodate changing needs. SmartPipe+ also comes with a 10-year warranty.
For more information, visit www.kaesernews.com/SmartPipe+. For more information or to be connected with your local authorized Kaeser representative, please call (877) 586-2691.
About Kaeser: Kaeser is a leader in reliable, energy efficient compressed air equipment and system design. We offer a complete line of superior quality industrial air compressors as well as dryers, filters, SmartPipe™, master controls, and other system accessories. Kaeser also offers blowers, vacuum pumps, and portable gasoline and diesel screw compressors. Our national service network provides installation, rentals, maintenance, repair, and system audits. Kaeser is an ENERGY STAR Partner.
Contact:
Laurel E. Loch 
Kaeser Compressors, Inc.
PO Box 946
Fredericksburg, VA 22404
Tel: (540) 684-9476 
Email: pr.us@kaeser.com
Related