SmartMetric Biometric Card uses a person fingerprint for authentication.
Press Release Summary: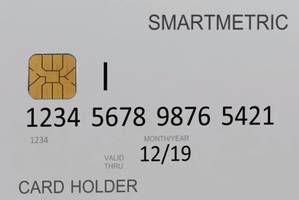 SmartMetric Biometric Card is suitable for buildings, pass security check points and logging on to computer network applications. Unit is equipped with EMV chip and meets ISO credit card standards. Product is FIPS-compliant and is used by USA agencies like department of defense. Card comes with fingerprint scanner and can be used at ATM's and POS. SmartMetric features rechargeable battery and intelligent power management system.
---
Original Press Release:
SmartMetric To Release Its Latest Multi-Function Combined Biometric Cyber and Physical Security Card Using The SmartMetric In-The-Card Fingerprint Scanning
The SmartMetric Biometric All-In-One Biometric Cyber Security, Access Control and Identity Card Takes Security to the Next Level
SmartMetric, Inc. (OTCQB:SMME) – SmartMetric, the developer of the biometric fingerprint activated credit card, announces the company has successfully created an all-in-one security card that uses a person's fingerprint biometrics for authentication and activation prior to the card being used to enter buildings, pass security check points and logging on to computer networks.
Cybersecurity and physical access security in a single biometric activated card the size and thickness of a credit card, brings convenience with superior security to the Government and Business workplace. "After more than a decade of Research and Development, we are very excited about the line of products we are now able to bring to market based on our ground breaking, in-the-card miniature fingerprint scanning technology," said SmartMetric's President and CEO, Chaya Hendrick today.
The company demonstrated its Biometric Card at the Money 20/20 Conference and Exhibition in Las Vegas last week. "We are extremely pleased with the level of interest and obvious excitement surrounding our biometric card products. Serious commercial adoption discussions are now taking place with Banks and security sales organizations throughout the world," said Chaya Hendrick.
The SmartMetric biometric credit card conforms with ISO credit card standards with its EMV chip approved by one of the largest global payment networks. The biometric cyber and physical security card is FIPS-compliant, making it immediately adoptable by USA Government agencies such as the Department of Defense.
The SmartMetric Biometric Card is built around the EMV Chip Card. It uses a person's fingerprint to activate the card in a secure on card scan and match.
Keeping your biometric identity safe is at the center of the design of the SmartMetric biometric card. At no time does a cardholder's fingerprint leave the card. A person's fingerprint is stored inside the card and matching of the person's fingerprint is done on the card itself. This was a central design requirement of the SmartMetric biometric card solution that necessitated SmartMetric to create a self-powered, inside the card, fully functional fingerprint scanner. Also, so that the card could be used at ATM's and POS (Point Of Sale) card readers, the SmartMetric development team created an on card miniature power management system that recharges the card as it is being used in card readers.
"Without a rechargeable battery and sophisticated intelligent power management system inside the card, a fingerprint biometric card would not last longer than a few months," Chaya Hendrick said.
SmartMetric has a scalable manufacturing in place with current output of 1 million cards per month.
To view the company website: www.smartmetric.com
Related