SmartLux Digital Video Magnifier Comes with Resolution of 800 x 480 pixels.
Press Release Summary: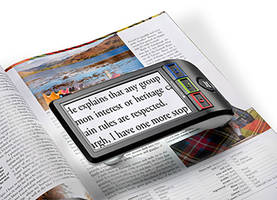 SmartLux Digital Video Magnifier features 5 in. LCD TFT display for magnification of 5x, 7x, 9x, or 12x with full color, black on white, white on black, black on yellow, and yellow on black viewing modes. This magnifier is enhanced with features such as reset button, lanyard, software fixes and electronic hardware improvements. Unit is equipped with two SMD-LEDs on the underside for illumination. The magnifier is scratch resistant and come with anti-glare layer film.
---
Original Press Release:
Introducing the New SmartLux Digital Portable Video Magnifier: Economically Priced Portable Video Magnifier with a Multitude of Features
The Smartlux Digital is a revolutionary, portable video magnifier that has a multitude of features, all for a very economical price. Newly enhanced, users can expect a battery that lasts longer (Samsung) and charges more quickly, a screen display that is brighter with higher contrast, a new reset button, a lanyard is included, software fixes, electronic hardware improvements, and new attractive packing.
The large 5" LCD TFT display provides 5x, 7x, 9x, or 12x magnification (even less when used in hand-held mode) along with 5 different viewing modes that include full color, black on white, white on black, black on yellow, and yellow on black. Illumination is provided by 2 hi-tech SMD LEDs and the tactile control buttons are easy to understand and use. Images can be captured and up to 20 can be stored.
The Smartlux Digital features a generous depth of focus and includes a stand that, when placed in its fully extended position, is ideal for reading. When placed in its half-extended position, it is ideal for writing. The two small SMD-LEDs on the underside of the device can be switched off when viewing other backlit displays, such as cell phones, to avoid screen glare.
The screen has a high resolution of 800 x 480 pixels, is hard-coated for scratch protection, and is made with an additional anti-glare layer of film. The device is completely portable at a light weight of 7.8 ounces and fits in a purse or large pocket. Simple control buttons are symbolically marked and there are only 3 to learn: On/Off, magnification setting, and the contrast mode. Includes a 2-year warranty. An automatic shut-off feature activates between 2 and 5 minutes of non-use to save battery time. The Smartlux Digital is ideal for anyone who is visually impaired and wants an economical, portable video magnifier! Item No. MA-901010.
More from Explosives, Armaments, and Weaponry