SmartCAMcnc Announces Licensing Agreement for ModuleWorks Cut Simulation Technology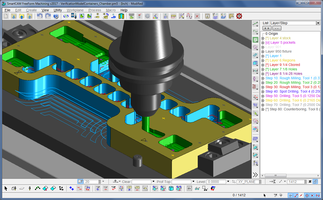 ModuleWorks Simulation will be integrated into SmartCAM v2017 applications.
SPRINGFIELD, ORE – Monday, November 28, 2016 – SmartCAMcnc, developer of the SmartCAM software suite for CNC programming, has announced a licensing agreement with ModuleWorks for their cutting-edge simulation technology module. SmartCAMcnc will integrate the module for all new verification components in their SmartCAM v2017 computer-aided manufacturing (CAM) products.
"We're very excited about our relationship with ModuleWorks, and all the technologies and advanced capabilities they offer." said Doug Oliver, SmartCAMcnc's Senior Product Manager.
With the agreement, ModuleWorks market-proven, stock removal, error detection, toolpath analysis and backplotting technology replaces SmartCAM's current verification tools.
"For v2017, our milling and turning customers will immediately benefit from the new, integrated ModuleWorks material removal verification engine, which offers seamless dynamic viewing in the main graphics window, along with simultaneous toolpath display.
"ModuleWorks is a clear leader in providing state-of-the-art CAM components. We look forward to the added value this brings to our users as we continue to leverage these capabilities in future SmartCAM releases." Oliver went on to say.
About SmartCAMcnc
SmartCAMcnc is a Springfield, Oregon USA based company that develops the SmartCAM suite of computer-aided manufacturing (CAM) software for milling, turning, wire EDM and fabrication applications.
For information on SmartCAM:
USA & Canada Media Contact
Hugh Caldwell
VP Sales & Marketing
SmartCAMcnc
541-344-4563
International Media Contact:
Terry Antrobus
International Business Development Director
SmartCAMcnc
+44 (0) 785 338 5342
Terry.Antrobus@SmartCAMcnc.com
More from Machinery & Machining Tools