Smart Safe Reaction with OpenSAFETY for Profinet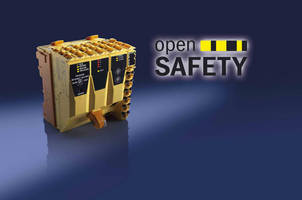 Now that B&R's SafeLOGIC safety controller is available for Profinet networks, Smart Safe Reaction technology can be quickly and easily integrated into Profinet automation applications.

Based on openSAFETY, B&R's Smart Safe Reaction product set is the only integrated safety system that can guarantee response times of 10 ms, which is 10 times faster than previous solutions. The openSAFETY real-time safety bus system is not bound to a single solution and can be used on all conventional Ethernet-based fieldbus network systems up to SIL 3.

In industries where Profinet has established itself as the most prevalent fieldbus network, there is considerable interest in open safety technology. With the innovative and high-performance features that Smart Safe Reaction technology can provide in combination with openSAFETY, user requirements can now also be solved on automated machines and systems that use Profinet.

Product set for Profinet

B&R meets this demand with a SafeLOGIC safety controller model for Profinet. It allows execution of the safety-related application program and also handles monitoring the overall configuration of the application, including its parameters.

The application on the Profinet master CPU has full access to the signals in the network, regardless of whether standard or safety-related channels are affected. The SafeLOGIC controller also uses openSAFETY to monitor the system and shut it down if a safety requirement is not met. A wide range of proven functions from the Smart Safe Reaction portfolio is available for implementation. This includes, for example, PLCopen-compliant and TÜV-certified function blocks, secure digital and analog input signals, safe temperature signal detection, and much more.

Putting the "open" in openSAFETY

The SafeLOGIC controller in this network can also handle signals from openSAFETY components such as light curtains, laser scanners and variable frequency drives from other manufacturers.

B&R Industrial Automation Corp.

Yvonne Eich, Marketing & Communications Coordinator

1250 Northmeadow Parkway, S-100

Roswell, GA 30076

B&R company profile

B&R is the world's largest and most successful private company in the area of automation equipment manufacturing. The motto "Perfection in Automation" has provided the foundation for the company since B&R was founded in 1979. Today, B&R employs 2,300 employees worldwide and has an exceptional global presence with 168 sales offices in 68 countries.

B&R Industrial Automation, Inc. North America, based in Atlanta, GA, has been working closely with their customers since 1987. Since then, B&R North America has continuously grown as a sales and support organization through both direct sales offices and B&R's unique Automation Partner distribution network. Today, B&R North America has a network of more than 24 offices throughout the USA and Canada and is there for its customers locally.


More from Electronic Components & Devices