Position Sensors / Detectors / Transducers
Smart Position Sensor operates in harsh environments.
Press Release Summary: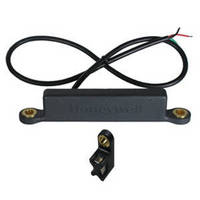 SMART Position Sensor, 75 mm Linear Configuration, features non-contact design with 0.002 in. accuracy. It combines ASIC and array of magnetoresistive sensors to determine position of magnet attached to moving object. Air gap between sensor and magnet of up to 0.118 ±0.098 in. provides interface flexibility, while sealed packaging allows unit to resist shock, vibration, and extreme temperatures. Self-diagnostics and temperature compensated output are also featured.
---
Original Press Release:

Honeywell Introduces Its Smart Position Sensor, the Most Accurate and Durable Linear Position Device Available in the Industry Today



75 mm Linear Position Sensor Offers Unparalleled Performance, Environmental Robustness, and Ease of Installation

MINNEAPOLIS - Honeywell (NYSE: HON) today introduced the SMART Position Sensor, 75 mm Linear Configuration, the most accurate linear position sensor available in the industry (0.05 mm [0.002 in]), enabling highly accurate motion control, and improving operation efficiency and safety. Its simple, non-contact design eliminates mechanical failure mechanisms, reducing wear and tear, improving reliability and durability, and minimizing downtime.

"SMART" stands for Superior Measurement, Accuracy, Reliability, and Thinking. The
SMART Position Sensor can essentially think for itself. It uses a patented combination of an ASIC and an array of magnetoresistive (MR) sensors to determine the position of a magnet attached to a moving object.

"The SMART Position Sensor is a revolutionary way of detecting linear position," said
Allen Han, Vice President, General Manager of Sensing and Control's Electronic Sensing
group. "The debut of this sensor provides our customers with the highest level of accuracy, durability, and performance as compared to other equivalent products available today."

Sealed packaging allows robustness in most harsh environments such as shock, vibration, extreme temperatures, salt water, and dusty or rough terrain. Installation is simplified to four simple steps versus up to 14 steps for some competitive products,
reducing set-up costs.

The SMART Position Sensor replaces multiple sensor and switch components that competitive products often require, eliminating extra wiring, connections, and external
components, therefore reducing design, installation, and supply chain complexity. Its built-in redundancy and self-diagnostics provide additional safety benefits and reduce equipment downtime.

For design engineers, the SMART Position Sensor provides design and interface
flexibility because of its air gap of up to 3.0 ± 2.5 mm [0.118 ± 0.098 in] between the sensor and the magnet, and a variety of output options (analog standard; CAN bus and RS232 interface available). The device also has electronics on-board, making it easily adaptable to most commercial platforms, eliminating the need for additional external electronics. Because it offers stable, temperature compensated output, designers do not need to expend engineering resources to build their own output algorithms, reducing total cost of ownership.

The SMART Position Sensor, 75 mm Linear Configuration, may potentially be used in:


Industrial applications such as machinery (e.g., cutting and slitting, material
handling, packaging, plastic molding, wafer handling, woodworking), elevators, and
industrial flow control (e.g., valve positioning for food and beverage plants);


Aerospace and defense applications such as aircraft ram door control and military
vehicle suspension arm positioning;


Medical applications such as imaging, hospital hardware, and syringe pumps;


Transportation applications such as agricultural combine motion control and crane
arm positioning.

Honeywell International (www.honeywell.com) is a Fortune 100 diversified technology and
manufacturing leader, serving customers worldwide with aerospace products and services; control technologies for buildings, homes and industry; automotive products; turbochargers; and specialty materials. Based in Morris Township, N.J., Honeywell's shares are traded on the New York, London, and Chicago Stock Exchanges. For more news and information on Honeywell, please visit www.honeywellnow.com.

More from Material Handling & Storage