Smart Oscilloscope features open-source framework.
Press Release Summary: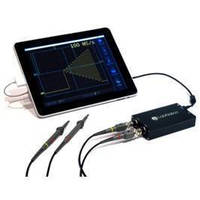 Combining multiple instruments into mobile, smart device, LabNation SmartScope works on PC, laptop, tablet, and smartphone. Unit combines dual-channel 100 MS/s oscilloscope, 50 MS/s arbitrary waveform generator, and 100 MS/s digital logic analyzer. Framework is based on FPGA registers which can be controlled from PC or tablet. Since user can flash FPGA through USB controller, there is no need for programmers. Advanced projects can use full-speed bi-directional data transfer capabilities.
---
Original Press Release:

NorthTree Associates Releases New LabNation SmartScope Oscilloscopes



The LabNation SmartScope combines 3 high-end instruments into 1 mobile, smart device. Accessible previously only to high-tech labs, the SmartScope allows everyone to own a personal lab!



Featuring a dual-channel 100MS/s oscilloscope, the SmartScope is the world's first lab instrument which works on both PC, laptop, tablet and smartphone. This is a must-have for any engineer, and for anyone involved in hardware development.



Key Product Highlights:




2x100MS/s 45MHz Oscilloscope



50MS/s Arbitrary Waveform Generator



Digital logic analyzer at 100MS/s



Digital waveform generator at 100MS/s



200 waveforms/second data updates



Open source



By giving full access to the framework of the SmartScope, a whole new dimension of possibilities is opening up. In its most basic form, this open framework allows a user to hook up a project to the extension ports of the SmartScope and control it from a PC or smartphone.



When considering taking on more advanced projects, a user will appreciate the full access to the powerful FPGA. The framework is based on FPGA registers which can be controlled from the PC or tablet, giving full control over the FPGA from the first moment of starting. Even more, since a user can flash the FPGA through the USB controller, there is no need to invest in expensive programmers. Even more advanced projects can make use of the full-speed bi-directional data transfer capabilities, transferring data to or from a device. Initially, all source files of the full framework will be presented as a git repository, together with additional repositories focusing on extremely simple samples, showing how to start developing for each of the components of the SmartScope.



LabNation SmartScope should appeal to:

Arduino, Raspberry Pi & DIY enthusiasts: having access to an oscilloscope will greatly reduce debugging time, as now a user can literally see what's happening.

Inventors: using the open-source framework, use the SmartScope to control inventions from a smartphone.

Students & Teachers: combining an oscilloscope, AWG and logic analyzer into a single mobile device makes the SmartScope a great addition to any student lab desk. Its open-source framework can serve both as example, as well as starting place for code.

Professional hardware engineers: even though the SmartScope is strongly aimed towards developers and hardware enthusiasts, the SmartScope was born from an analysis of what performance is required to visualize any job but the extreme high-end -- such as DDR or RF implementations. Therefore, we're sure that any electronics engineer will appreciate the combination of performance and versatility offered by the SmartScope.



Established in 2004, NorthTree Associates (Waconia, MN) is a North American distributor that specializes in providing design engineers, test engineers and production engineers the best protocol, bus analysis, and board-level testing and debugging tools available.

More from Architectural & Civil Engineering Products