Smart Glovebox(TM) Low-Humidity Glove Box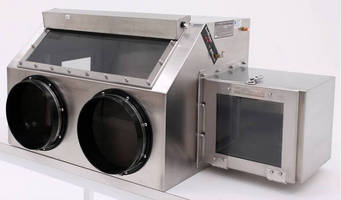 Fullerton, CA — Terra Universal's Smart Glovebox™ takes the hassle and expense out of maintaining a critical low-humidity environment. The easy-access humidity control system lets the user program a low-%RH set point in seconds. Using a quick-response feedback system to activate a dry nitrogen purge, the Smart Glovebox continuously monitors and maintains the humidity level to prevent moisture damage; no operator monitoring is necessary.



This smart controller reduces nitrogen expenses by purging only when necessary and also minimizes overpressures that stress cabinet seals. A one-piece, non-outgassing gasket and automatic bleed valve maintain a safe cabinet pressure.  Smart Glovebox comes with an externally-mounted fluorescent light; airlocks are optional. Models are available in stainless steel, acrylic, static-dissipative PVC, polypropylene or polycarbonate; one- and two-piece glove/sleeve assemblies, in neoprene, nitrile, hypalon and other application-specific materials, allow manipulation of materials inside the enclosure.



For full specifications, visit http://www.terrauniversal.com/glove-boxes/smartglovebox.php.



More from Computer Hardware & Peripherals