Smart Device Ultrasound System affords mobility, flexibility.
Press Release Summary: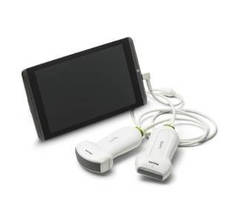 Available for healthcare providers or organizations, Lumify lets institutions scale ultrasound solution to meet their needs and environment without purchasing imaging equipment. Subscription includes transducer, app, access to online portal, and support. Leveraging cloud-enabled and tablet technology, solution fosters connectivity, flexibility, and mobility. Users download app, connect transducer to user-supplied Android®-compatible smart device via USB, and launch app to begin scanning.
---
Original Press Release:

Philips Initiates Commercial Launch of Lumify Smart Device Ultrasound Solution in the U.S.



- Smart device solution designed to make ultrasound more accessible on demand



- Two advanced ultrasound transducers, app-based online portal and subscription platform now offered as part of comprehensive portable, connected digital solution



ANDOVER, Mass. – Royal Philips (NYSE: PHG, AEX: PHIA) today announced that Lumify, a smart device ultrasound solution, is available for purchase by licensed healthcare providers or organizations in the U.S. Lumify is offered as part of a novel subscription model unique to the industry. From Philips' online portal, users will be able to order transducers, manage flexible subscriptions and access Philips' support, training and IT services through the new offering. Philips' new ultrasound digital health approach connects off-the-shelf compatible smart devices, a mobile application, advanced ultrasound transducer technology, integrated IT and support services to help healthcare providers improve patient care and reduce costs.



Since debuting the smart device ultrasound concept in 2014, Philips has enhanced the solution for more clinical uses including acute care and office practice. As a comprehensive solution, Lumify extends the benefits of ultrasound to more places by leveraging cloud-enabled and tablet technology, and bringing connectivity, flexibility and mobility into the hands of more healthcare providers.



"In an increasingly connected world where the power of technology is at our fingertips, it's no longer enough to create an ultrasound product or service. At Philips, we create solutions holistically with the patient at the center," said Randy Hamlin, vice president and business segment leader, Ultra Mobile, for Philips. "Lumify leverages advanced digital health technology to provide critical information to the right people at the right time, transforming how we approach care delivery and connecting the various touch points along the health continuum."



Available with a monthly subscription starting at an introductory price of $199, Lumify allows institutions to scale their ultrasound solution to meet their needs and environment without having to purchase imaging equipment. The subscription includes a transducer, app, access to the online portal, warranty and Philips' support.



Designed to help make ultrasound more accessible, Lumify operates on user-supplied compatible Android smart devices equipped with Internet and email functionality. To use Lumify, users download The Lumify App from Google Play, connect their Philips transducer to their compatible smart device via USB and launch the app to begin scanning.



The Philips transducers available as part of the subscription support Lumify's use in acute and emergency care, internal medicine, musculoskeletal (e.g., orthopedics, sports medicine and podiatry) urgent care and office practice. Philips' advanced transducer technology, paired with cloud-enabled and tablet technology, helps users make fast, informed diagnoses through a variety of scan types. Lumify's scanning app allows users to examine the gall bladder, abdomen and lungs, in addition to having ob-gyn, vascular, superficial, musculoskeletal and soft tissue functionality.



"Lumify has the potential to provide on-demand, point-of-care diagnostics in a more connected environment," said Bret Nelson, MD, associate professor of Emergency Medicine at Mount Sinai Hospital in New York. "We have been using the Philips Smart Device Ultrasound with our medical students. Leveraging a familiar device with portable diagnostic testing makes learning ultrasound easier for new users and more convenient for experienced imagers. I think that convenience and availability will increase the utility of this technology, improving patient care and efficiency."



Beyond integrating with everyday technology such as personal, off-the-shelf, compatible smart devices, Lumify also uses cloud-enabled technology to connect with PACS, shared networks and system directories. Additionally, data will be accessible on the Philips HealthSuite Digital Platform, an open and secure, cloud-based IT infrastructure, allowing clinicians and health systems access to powerful data and analytics to help improve patient care.



Lumify is a solution that will grow with its users, with plans for regular software updates and additional transducers, services and apps being released at regular intervals.



To learn more about Lumify, please visit: www.philips.com/lumify. Philips will showcase Lumify at booth #6736 during the upcoming Radiological Society of North America Meeting, Nov. 29 through Dec. 4, in Chicago, Ill. Follow @PhilipsLiveFrom or visit http://www.philips.com/rsna for more information on Philips' presence at #RSNA15.



About Royal Philips

Royal Philips (NYSE: PHG, AEX: PHIA) is a diversified health and well-being company, focused on improving people's lives through meaningful innovation in the areas of Healthcare, Consumer Lifestyle and Lighting. Headquartered in the Netherlands, Philips posted 2014 sales of EUR 21.4 billion and employs approximately 106,000 employees with sales and services in more than 100 countries. The company is a leader in cardiac care, acute care and home healthcare, energy efficient lighting solutions and new lighting applications, as well as male shaving and grooming and oral healthcare. News from Philips is located at www.philips.com/newscenter.



CONTACT:

Kathy O'Reilly

Philips Group Communications

Tel: +1 978-221-8919

Email: Kathy.Oreilly@philips.com

Twitter: @kathyoreilly



Sarah Haeger

Philips Ultrasound

Tel: +1 206-920-8726

Email: Sarah.Haeger@philips.com

Twitter: @sarahhaeger



Web Site: http://www.usa.philips.com



More from Fluid & Gas Flow Equipment