Smart Card Reader is available for ExpressCard(TM) interface.
Press Release Summary: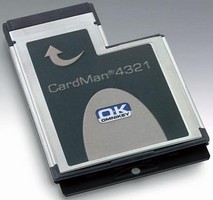 CardMan® 4321 uses ExpressCard slot to enable smart card based applications such as secure log-on to networks or online transactions for laptops. It uses USB interface offered by ExpressCard standard and is fully CCID-compliant, which allows use with standard Microsoft drivers. Product meets all relevant standards, including ISO 7816, EMV 2000 Level 1, Microsoft WHQL, PC/SC, HBCI, and PC-2001 specifications. It supports any available smart card.
---
Original Press Release:

OMNIKEY Smart Card Reader for the ExpressCard(TM) Interface Now Available



Smart card security for laptops with the thin, fast and light mobile reader CardMan® 4321

Walluf - July 17, 2006 - OMNIKEY, one of the world's leading manufacturers of innovative smart card readers, offers the recently launched CardMan® 4321 for the new ExpressCard(TM) interface now for volume orders.

The ExpressCard(TM) standard enabling smaller and faster PC card solutions has already been implemented in the latest laptops in addition to or as a replacement for traditional PC Card (PCMCIA) expansion slots. After installation in the ExpressCard(TM) slot the CardMan® 4321 uses this interface to enable smart card based applications such as secure log-on to networks or online transaction for laptops.

Due to its small size, it is also ideal for mass distribution by mail, bundled in an envelope or small package together with accompanying smart cards and/or software.

Consistent with OMNIKEY's tradition of offering robust, technically superior firmware and driver support, the CardMan® 4321 smart card reader provides the highest level of interoperability available on the market. Driver and chipset of the CardMan® 4321 have been adopted from the CardMan® 3121. As the CardMan® 4321 uses the USB interface offered by the ExpressCard(TM) standard the product is fully CCID compliant which allows also to work with standard Microsoft drivers. The reader meets all relevant standards such as ISO 7816, EMV 2000 Level 1 (Europay, MasterCard, Visa), Microsoft WHQL, PC/SC, HBCI (Home Banking Computer Interface), and PC-2001 specifications. The reader also supports virtually any type of contact smart card available on the market.

Company names and product names mentioned above are the trademarks or registered trademarks of the respective companies.

About OMNIKEY
OMNIKEY, one of the world´s leading manufacturers of innovative smart card readers, offers the most diversified product portfolio available on the market today. OMNIKEY's smart card readers for PCs can be utilized by any application including logical access control, digital signature, WLAN authentication, secure banking and online transactions, loyalty programs, and healthcare solutions.

OMNIKEY, headquartered in Walluf, near Wiesbaden (Germany), is part of ASSA ABLOY Identification Technologies (ITG). OMNIKEY´s regional offices for North and South America reside in Irvine, California with technical support in Atlanta, Georgia. The Asia Pacific operation is located in Hong Kong. Design, production management, and quality control of OMNIKEY's products are carried out in the company's two R&D centers in Linz, Austria and Erfurt, Germany. OMNIKEY readers are distributed worldwide through a global network of partners, including value added resellers, system integrators, and OEMs. For further information please go to www.omnikey.com.

About ASSA ABLOY Identification Technologies (ITG)
ASSA ABLOY Identification Technologies focuses on both established as well as emerging applications in the ID management sector, and is one of the world's leading suppliers of RFID and smart card components, products, solutions, and services. Typical applications that ITG targets are national ID and e-passport programs, physical and logical access control, supply chain management, animal tagging, transport, and various industrial and manufacturing applications.

Comprised of a dynamic group of companies - including ACG Identification Technologies, Sokymat, VisionCard, and OMNIKEY - ITG spans the value chain of smart card and RFID-based systems. ITG's comprehensive range of products include RFID transponders, contact and contactless smart cards and readers, as well as value-added services for developers and integrators of identification management solutions.

The SmartWorldAcademy in Prague, the Group's advanced training center specialized in smart card technologies, uniquely positions ITG at the forefront of the personal identity authentication industry.

ITG, headquartered in Walluf, Germany, is part of the Global Technologies Division of the ASSA ABLOY Group, the world's leading manufacturer and supplier of locking solutions and a public company listed on the Stockholm Stock Exchange. The ASSA ABLOY Group has some 30,000 employees and annual sales of about EUR 3 billion. For more information, please visit www.assaabloy.com.

For further information, please contact:

Antje K. Schafer
OMNIKEY
Am Klingenweg 6 a
65396 Walluf - Germany
Tel: +49 6123/7913-15
Fax: +49 6123/7913-28
EMail: antje.schaefer@omnikey.com

Pier Costa
WISE MEDIA S.p.A.
Via Lepetit 4
20124 Milano - Italy
Tel: +39 / 02 / 8903 4112
Fax: +39 / 02 / 67388322
Email: pier.costa@wisemedia.com

More from Architectural & Civil Engineering Products