Smart Camera features 10.7 megapixel resolution.
Press Release Summary: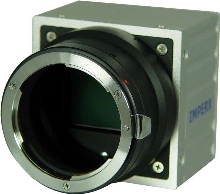 Suited for bandwidth-constrained monitoring applications, Lynx IPX-11M5-L incorporates Lynx 32-bit RISC processor and draws 6 W from 10-15 Vdc supply. On-board intelligence enables camera to zoom from 200 lines @ 30 fps to 2,672 lines @ 5 fps. Operating over -5 to +50ºC temperature range, unit features horizontal windowing, automated iris, 10 sec integration time, and upgradeable camera software and firmware. Programmable features range from frame rate to external trigger.
---
Original Press Release:

Imperx Lynx IPX-11M5-L Smart Camera has Highest Resolution and Lowest Power Consumption


June 15, 2005

With the highest available resolution (4,000 x 2,672 pixels, or 10.7 megapixels) and the lowest power consumption in its class, the Lynx IPX-11M5-L smart camera from Imperx, Inc. is the right choice for vision applications needing ultimate flexibility. Under control of its on-board intelligence, the camera can dynamically zoom from low-resolution at video frame rate (200 lines at 30 fps) to ultra-high resolution (2,672 lines at 5 fps), making it ideal for bandwidth-constrained monitoring applications, such as remote surveillance. For example, the camera can conserve system bandwidth by providing live video at low resolution in a "keep alive" mode, then (under either local automatic or remote manual control) rapidly zoom in to identify a potential threat target or area of interest at very high resolution. In this way, one smart camera can do the work of multiple sensors with more limited capabilities.

Such demanding applications often have power constraints as well, so Imperx designed the IPX-11M5-L with minimum power requirements in mind. The unit draws only 6 W from any 10-15 Vdc supply, far less than competing units that need up to 16 W.

Best of all, the IPX-11M5-L incorporates the Lynx 32-bit RISC processor to provide images at the right resolution and appropriate frame rates under demanding conditions. On-board intelligence allows the IPX 11M5-L to add features unavailable in competing products, such as horizontal windowing, automated iris to prevent saturation in high-light situations, 10-sec. integration time for extreme low-light situations, and upgradeable camera software and firmware.

In addition to the advantages the IPX-11M5-L gains from having on-board intelligence, the unit provides better environmental tolerance (-5ºC to +50ºC), wider dynamic range (60 dB), wider gain range (6 dB to 41 dB), and narrower gain steps (0.053 dB/step) than most competitive offerings. Altogether, these features make the IPX-11M5-L the ideal choice for demanding vision applications.

About Lynx

LYNX Series cameras deliver not only the features that customers have come to appreciate and expect from Imperx, but a host of new programmable features that provide even more flexibility for their advanced applications. The LYNX series cameras achieve an extraordinary performance level through their unique image processing engine: a 1 million gate FPGA with 32-bit RISC processor. This processing power gives users superb ability to tailor the cameras' functionality to their applications.

For example, users can program the dynamic range by selecting from an 8, 10, or 12-bit output, applying multiple Look-Up-Tables, binning vertically and horizontally, and making dynamic transfer-function corrections. They can also automatically put image data out in different formats to suite different applications.

Additional programmable features include frame rate, shutter, long integration, strobe output, gain and offset, AOI, external trigger, dynamic S/N correction, temperature monitor and alarm. A key feature is field upgradeability, allowing users to upload custom firmware, software and LUT without having to return the camera to the factory.

These highly intelligent cameras incorporate the Camera Link® interface standard, giving users easy access for programming and serial communication.

About Imperx

Imperx, Inc. designs, develops and manufactures advanced, state-of-the-art imaging products used in the machine vision, medical, defense, surveillance and astronomy markets - wherever there is a need to capture high-resolution digital color or black/white images for both still and full-rate motion processing. Imperx' manufacturing facilities are certified for ISO 9002 compliance.

Imperx' product portfolio is focused in four core areas: cameras, frame grabbers, adapters and repeaters. The LYNX mega-pixel camera line features rich, high resolution, high speed, color and monochrome image-capture devices, and offers unprecedented performance for today's demanding machine vision and surveillance applications. The VCE series of analog frame grabbers have achieved number-one market share. FrameLink(TM) digital frame grabbers for Camera Link® cameras are the only products of their kind on the market! The Adapt-A-Link(TM) series of adapters allows customers to leverage their investment in existing cameras or frame grabbers with dissimilar interfaces by performing the necessary adaptation. The Imperx series of Adapt-A-Link(TM) repeaters overcomes distance limits imposed by the Camera Link® and LVDS standards, providing virtually unlimited physical reach for distributed image-sensing systems.

For more information, visit the Imperx, Inc. website at www.imperx.com.

FrameLink(TM) and Adapt-A-Link(TM) are registered trademarks of Imperx, Inc., Boca Raton, Fla.

Camera Link® is a registered trademark of the Automated Imaging Association, Ann Arbor, Mich.

More from Laboratory and Research Supplies and Equipment