Smart 24-Bit Digitizer Module is designed for PXIe platform.
Press Release Summary: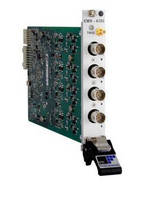 While able to deliver 625 kSa/s data rates simultaneously across all channels, EMX-4350 DAQ module provides granularity in 4-channel increments. This allows for scalability and matching with any PXIe or PXI (in hybrid systems) modules in building modular system. Combination of EMX-4350 digitizer with CMX09, 9-slot PXIe chassis allows for deterministic slot-to-slot communication and control with data bandwidth of up to 8 GBps. Cross channel phase matching is within ±0.01°.
---
Original Press Release:

VTI Instruments Announces the Industry's First, 24-Bit, 625 kSa/s Smart Digitizer, the Latest Addition to the Company's PXI Express Modular Product Line



High performance PXIe digitizer designed for superior analog performance and application-focused flexibility



VTI Irvine, CA - VTI Instruments Corporation is pleased to introduce the EMX-4350 4-channel, 24-bit, 625 kSa/s smart digitizer module for the PXI Express platform. As the latest addition to VTI's sentinelEX series of PXI Express instruments, the EMX-4350 is one of the most advanced data acquisition modules available, delivering 625 kSa/s data rates simultaneously across all channels. The EMX-4350 has been optimally designed for high speed data acquisition, ground vehicle test (GVT), acoustic analysis, impact test, vibration analysis, order analysis and modal test applications.



The EMX-4350 provides granularity in 4 channel increments allowing for scalability and matching with any PXIe or PXI (in hybrid systems) modules in building a modular system to fit any application. Combining the EMX-4350 digitizer with the CMX09, 9 slot PXIe chassis allows for deterministic slot-to-slot communication and control with data bandwidth of up to 8GB/s. Maximum data rates can be achieved across all channels on fully loaded 9 slot and 18 slot chassis for up to 68 channels acquiring data simultaneously on one PXIe 3U rack mounted chassis.



Scalability from four channels to thousands of channels through the utilization of the IEEE-1588 standard gives users the flexibility to distribute the location of their acquisition instrumentation to maximize measurement accuracy. This industry standard allows measurement data to be synchronized to within 100ns across multiple chassis in different locations.



Best-in-class noise immunity and exclusive low frequency common mode trimming combine with the highest quality instrumentation grade 24-bit ADC's to deliver superior measurement fidelity (-125 dB SFDR). Cross channel phase matching to within ±0.01° delivers the uncompromised phase response required for accurate single and cross channel measurements common in most DSA and high-speed data acquisition applications. In addition to unmatched DC and AC transducer input performance, the complete measurement chain is further optimized with uncompromised excitation flexibility from 2 mA to 20 mA, designed to maximize transducer performance and response.



FPGA-based, 'smart' synthetic instrument customization extends traditional hardware performance by combining nearly unlimited user-defined computational, processing, and control possibilities to deliver unmatched measurement performance and flexibility. "For the first time our 'smart' line of PXIe digitizers gives our customers the power to access and customize the on-board FPGA to tailor signal filters and DSP algorithms to their specific requirements," said Tom Sarfi, VTI's VP of business development, "customers can now use industry-standard tools such as MATLAB® and Simulink® to graphically implement and reuse FPGA designs as well as pick from hundreds of signal conditioning filters and analysis algorithms."



Industry standard drivers and open application programming interfaces provide the flexibility and freedom of choice to customize or select the environment best suited to the specific development requirements. Alternatively, the EMX-4350 can be paired with a variety of turnkey software packages geared towards common applications for an intuitive, easy to use, data acquisition solution.



Price and availability: $4500 Stock to 6 weeks ARO



For more information, please visit: EMX-4350 Webpage



About VTI Instruments Corporation

VTI delivers precision instrumentation for electronic signal distribution, acquisition, and monitoring, which is used in the world's most demanding test applications. Our solutions provide reliable data, first time, every time. Serving the aerospace and defense, power generation, energy, automotive and commercial electronics industries, VTI's solutions allow our customers to optimize their capital investment through product longevity while ensuring unmatched measurement integrity and data reliability. ISO 9001 certified, with plants in the U.S., Europe and Asia, worldwide product support is provided through a network of VTI certified engineering representatives. VTI is a sponsor member of the VXI Consortium, a founding member of the LXI Consortium and an active member of the VITA open standards organization. For additional information, please visit www.vtiinstruments.com

More from Software