Smaller, Lighter Multi-Orifice Restrictor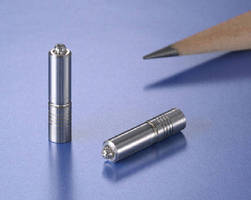 WESTBROOK, CT - The new 156 Lee Bender Jet is a miniature, lightweight restrictor that incorporates multiple orifices in series to lower fluid velocities and reduce the possibility of cavitation. Weighing only 1.1 grams, this multi-orifice restrictor offers a 21% weight savings over the 187 Bender Jet and is 17% smaller in diameter, resulting in a corresponding reduction in installation boss size and weight.
Designed to meet the requirements of 5,000 psi systems, the 156 Bender Jet is offered in eight standard Lohm rates, ranging from 1,900 to 9,500 Lohms, and is protected with two integral safety screens for bidirectional flow capability.

More from Fluid & Gas Flow Equipment