Small PIFA GPS Antenna is intended for handheld devices.
Press Release Summary: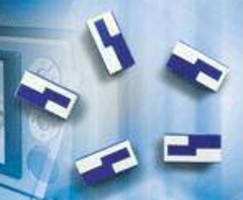 Measuring 3.2 x 1.6 mm, 3216 ceramic chip antenna (PIFA mode) supports 1.575-2.45 GHz bandwidths and is designed for use in high-end, handheld GPS devices. SMD packaging and compact size facilitate mounting on circuit boards, while breakthrough from traditional mono-polar circuit design mode lends to efficiency and size. Also, use of coupling and parasitic effects reduces frequency and strengthens low frequency performance.
---
Original Press Release:
Yageo Introduces the Smallest PIFA GPS Antenna for Handheld Devices
TAIPEI, TAIWAN - Yageo Corporation, a leading global passive components supplier, announced today the release of the smallest ceramic chip antenna (PIFA mode) for GPS applications. The new PIFA GPS antenna is an advanced design of the 2.45GHz PIFA antenna that was released last year. Although the same size, it can now reach the same efficiency on lower frequency. This antenna is specifically designed for use in high-end handheld GPS devices, such as mobile phones, PDAs, portable navigation devices, notebook computers, and mobile internet devices. Samples were sent to customers earlier this year while mass production began in March. Yageo's 3216 ceramic PIFA GPS antenna features ultra compact volume and high performance with a dimension of only 3.2mm x 1.6mm. With less clearance needed, it greatly helps reducing the overall GPS design block. The antenna supports central frequency of 1.575GHz, unprecedentedly breakthrough in size limitation on low frequency chip antennas, performing on par with CP GPS antennas. Moreover, the use of SMD packaging along with the compact size of the component makes it easier to mount on circuit boards, thus effectively reducing manufacturing costs. This makes it the best solution for handheld GPS devices- designing with limited space. According to Yageo "The miniaturization of GPS devices is already an irrevocable trend and built-in GPS functions are an integral part of new generation smart phones. Handheld devices are often subject to environmental interference due to being in contact with human body, which in turn has a major affect on the stability of the GPS antenna. One of the more pressing concerns for mobile phone manufacturers is coming up with stable GPS functions for the limited design space. Yageo's introduction of the 3216 ceramic PIFA GPS antenna will revolutionize the chip antenna product application market while helping system design houses strengthen GPS design capabilities. This once again underlines our competitive advantage in the manufacturing and innovative design process." Another point worth mentioning is the design refinement of the 3216 ceramic PIFA GPS antenna, which is a breakthrough from the traditional mono-polar circuit design mode. This allows a simplified manufacturing process that results in superior product performance in both efficiency and size. Additionally, the use of coupling and parasitic effects reduces the frequency, thus strengthening low frequency performance. Yageo offers a variety of ceramic PIFA antennas, with the 3216 size supporting 1.575GHz to 2.45GHz bandwidths. This not only provides an industry-leading product portfolio, but also gives wireless device manufacturers the best value-added choice available. Yageo's outstanding manufacturing capabilities and ceramic technology has been integrated into antenna circuit design for maximum efficiency. As a global leader in passive components, Yageo provides an incomparable selection of antenna products, including metal, patch, and chip antennas. Yageo plans to expand its antenna product portfolio continuously in order to service the potential antenna market. About Yageo Corporation Founded in 1977, Yageo Corporation has become a world-class provider of passive-component services with capabilities on a global scale, including production and sales facilities in Asia, Europe and Americas. The corporation is uniquely positioned to provide one-stop-shopping, offering its complete product portfolio of resistors, capacitors and inductors in both commodity and specialty versions, plus design-in capability, distribution, e-commerce connection and logistics. Yageo currently ranks as the world No.1 in chip-resistors, No. 3 in MLCCs and No. 3 in ferrite products. Yageo Corporation has 20 sales offices, 8 production sites, 6 JIT logistic outfits and 3 R&D centers.
More from Mechanical Power Transmission