Small Glass Optics enhance Chips on Board capabilities.
Press Release Summary: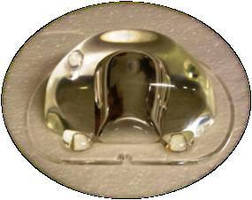 Designed to handle Type I–V lighting distribution fixtures, small optic prisms are intended for use with Chips on Board (COBs) and can help improve direction of light. These products, available as various forms of convex lenses and sophisticated prisms, exhibit increased tolerance for interior heat created by COB and feature dimensions that help decrease fixture size.
---
Original Press Release:

Gillinder Glass Develops Small Optics for Chips on Board



PORT JERVIS, N.Y. – Gillinder Glass is pleased to announce that its chemists and optical engineers have developed several small optic prisms to be used with Chips on Board (COBs).



Traditionally, businesses used single LEDs (light-emitting diodes), and when they wanted to generate more light, they just added additional LEDs. Now, many companies are shifting to COBs because it places multiple LED chips together in one lighting module.



The superiority of glass to withstand the additional heat created by COB's as well as its ability to withstand the exposure to the elements makes it the medium of choice to use for this purpose.



Small optics are available as various forms of convex lenses and sophisticated prisms. "If a customer is contemplating a shift to a COB design, our optical engineering team is prepared and equipped to assist. We're excited to be able to make this small optics solution available to our customers as part of our ongoing commitment to "Engineer for Tomorrow's Technology", said Charlie Gillinder, CEO of Gillinder Glass.



Possible advantages to using a small optical glass lens include:

• Reducing the overall cost of the light fixture;

• Improving the direction of the light over a flat lens;

• Increasing the tolerance for interior heat created by the COB; and

• Decreasing the size of the fixture.



The small optics prisms are designed to handle Type I through V lighting distribution fixtures.



About Gillinder Glass – "Engineered for Tomorrow's Technology"

Gillinder Glass is a custom glass manufacturer based in Port Jervis, New York. The company specializes in custom-molded, hand-pressed, clear and colored glass products "Made in the USA" from both open (Gillinder-owned) and private (customer-owned) molds. Airfield products comply with ICAO standards and FAA regulations. For more information, visit the Gillinder Glass website, http://www.GillinderGlass.com, or call (845) 856-5375.



Gillinder Brothers, Inc.

39-55 Erie Street

PO Box 1007 

Port Jervis, NY  12771  

info@gillinderglass.com

More from Fasteners & Hardware