Small Form Factor Industrial PCs withstand harsh environments.
Press Release Summary: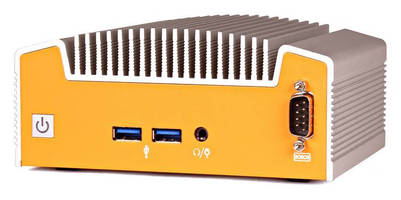 Engineered to withstand dust, shock, and vibration, ML100G-10 and ML100G-30 combine Intel® NUC with ruggedized enclosure. Quad-core 1.83 GHz (turbo up to 2.16 GHz) Intel Celeron® N2930 powers ML100G-10, which supports 8 GB max DDR3L RAM and features dual Gb LAN ports. Powered by Intel dual-core, 2.3 GHz (turbo up to 2.9 GHz) i3-5010U or dual-core 2.1 GHz i5-5300U CPU, ML100G-30 supports up to 16 GB DDR3L RAM. Both models support diverse I/O and wireless capability.
---
Original Press Release:

Logic Supply Unveils Next Generation Industrial NUC



New system combines Intel's versatile small form factor platform with custom engineered, ventless industrial enclosure.



SOUTH BURLINGTON, VT – Industrial and embedded computer manufacturer Logic Supply (www.logicsupply.com) has released a preview of their upcoming ML100 ultra-small form factor industrial PC, combining the compact power of Intel's NUC platform with a ruggedized enclosure. The preview page (www.logicsupply.com/ml100) features product highlights and images of the new system and its unique design features.



Logic Supply ML100

"The ML100 is designed to take the NUC places it's never been," said Logic Supply Engineer Hans Brakeley. "In creating the ML100 we wanted to highlight what's made the NUC so successful, its impressive size to performance ratio, and incorporate the features that make Logic Supply computers so unique, their proven industrial reliability. The result is a small form factor industrial PC that's powerful, energy efficient and specifically engineered to stand up to the dust, harsh environments, shock and vibration that our commercial clients face on a daily basis. It also doesn't hurt that it looks so good."



In addition to taking advantage of the latest generation Intel Broadwell processors, one of the ML100 models will feature dual LAN connectivity, a feature often requested by NUC system integrators previously limited to a single LAN port.



The ML100 will launch with two distinct models, the ML100G-10 and ML100G-30. Prices will start around $500.



The ML100G-10 is powered by an Intel Quad Core Bay Trail Celeron N2930 processor, running at 1.83GHz (Turbo up to 2.16GHz). The system will support up to 8GB of DDR3L RAM and up to 1TB of mSATA solid state storage. Front I/O includes USB 2.0, USB 3.0 and an RS232/422/485 COM port. Rear I/O features the dual Gb LAN ports, 2x USB 2.0, 2x HDMI and an optional Terminal Block Power connector with remote switch.



The ML100G-30 features the new Intel Dual Core Broadwell i3 (2.1GHz) and i5 (2.3GHz, Turbo up to 2.9GHz) processors. Memory options include up to 16GB of DDR3L RAM while integrated M.2 support allows for up to 512GB of SSD storage. 2x USB 3.0, RS232/422/485 COM and an audio port are available on the front panel, with Gb LAN, 2x USB 3.0, 2x Mini DisplayPort standard on the rear of the system. The ML100-30 can also be configured with optional DIO and Terminal Block Power with remote switch capabilities.



For more information about the ML100 and to sign up for availability updates, visit www.logicsupply.com/ml100 or call +1 802 861 2300, option 1.



About Logic Supply:

A leading industrial PC company, Logic Supply is powering innovation worldwide. Designing and manufacturing small, rugged computers specifically engineered for harsh environments, the company serves a variety of industrial and embedded markets. In addition to its extensive product line, Logic Supply offers custom development as well as an end-to-end OEM service program. The result for customers is a true partnership characterized by speed, flexibility and value. Visit the Logic Supply website at www.logicsupply.com or email info@logicsupply.com.



Media Contact:

Darek Fanton

35 Thompson St.

South Burlington, VT

802-861-7443

marketing@logicsupply.com



The ML100G-10

Processor: Quad Core Celeron N2930 1.83Ghz (Turbo up to 2.16Ghz)

Front I/O: USB 2.0, USB 3.0, RS232/422/485 COM

Rear I/O: 2x Gb LAN, 2x USB 2.0, 2x HDMI, Terminal Block Power with Remote Switch (Optional)

Memory: Up to 8GB of DDR3L RAM

Storage: Up to 1TB mSATA SSD

Wireless: Intel AC with Dual Band Antenna



The ML100G-30

Processor: Dual Core i3-5010U 2.1GHz/Dual Core i5-5300U 2.3GHz (Turbo up to 2.9GHz)

Front I/O: 2x USB 3.0, RS232/422/485 COM, Audio

Rear I/O: Gb LAN, 2x USB 3.0, 2x Mini DisplayPort, DIO (Optional), Terminal Block Power with Remote Switch (Optional)

Memory: Up to 16GB of DDR3L RAM

Storage: Up to 512GB M.2 SSD

Wireless: Intel AC with Dual Band Antenna

More from Fluid & Gas Flow Equipment