SMALL BUT POWERFUL! The Miniature Diaphragm Pumps THOMAS by Gardner Denver has to Offer Impress with Optimum Performance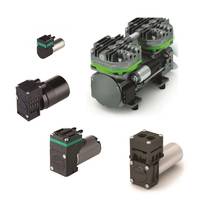 Sheboygan, WI, USA: November 2017 A comprehensive choice of diaphragm liquid and gas pumps in miniature form for Sterilizers, Anesthesia Monitoring, Dialysis, Gas Detection, Inkjet Printing and Industrial Washing – that is what THOMAS by Gardner Denver offers its customers.
The pumps' features are impressive: compact and lightweight, almost no sound or vibration, chemically resistant, designed for use with liquids and gases, and are self-priming and energy-efficient.
THOMAS has over 60 years' experience in producing pump systems, compressors, vacuum pumps and liquid pumps for OEMs. Alongside powerful miniature diaphragm pumps, the industry's largest range of products anywhere in the world includes a broad spectrum of pressure and vacuum pumps, including piston pumps, rotary vane pumps, linear pumps and peristaltic pumps. The products are used in laboratories all over the world, as well as in the medical, environmental and industrial sectors.
THOMAS can provide the appropriate miniature diaphragm pump, such as those in the 1014, 1410/1420, 1610, 8221, 6410/6420 and 6311 pump ranges, for a broad spectrum of applications:
The miniature diaphragm pump 1014 is used in devices such as hand-held gas detectors and has an impressively diverse range of uses in leak detection and in room monitoring. This pump has the advantages of being small, manageable and reliable.
Pumps from the 1410/1420 range are primarily used in medical environments, in particular for gas analysis and in monitoring systems. It can be used for such varied purposes as blood gas analysis, for respiratory illnesses or in dialysis. Its benefits are small size and low sound levels, as well as low power consumption.
Vacuum pump 1610 is used for monitoring flue gases (e.g. oxygen, carbon monoxide, carbon dioxide and others). It can be fitted in medical devices, gas detectors and collectors as well as laboratory and analysis systems. Its considerable evacuation power (up to 30% quicker than conventional pumps), and its excellent performance stability despite low maintenance requirements are just some of its advantages.
Pumps from the 8221 series are used in autoclaves, analysis devices and suction equipment. It is a powerful, yet quiet pump with very low vibration levels.
The liquid pumps like the 6311 and the 6410/6420 which will be available soon, are suitable for use in medical analysis devices as well as in industrial inkjet printers. The advantages of these pumps include low sound levels and an even volume flow, while they are also ideally suited to being used in conjunction with chemically aggressive fluids.
Request a free pump sample today! Please visit www.trythomaspumps.com.
Gardner Denver THOMAS, www.gd-thomas.com, is a leader in flow control products for medical, life sciences, and selected other industries – focused on solutions for OEMs. Innovation, global capabilities and a solutions centric approach to our customer's success is at our core. A global production network with plants in the U.S. (Sheboygan, WI and Monroe, LA), Europe (Memmingen, Germany) and Asia (Wuxi, China) allows fast and flexible reaction to our customer needs.