Small Boat Network Starter Kits feature built in termination resistors.
Press Release Summary: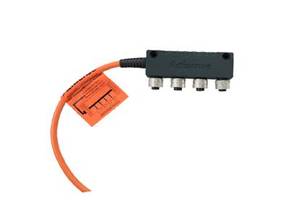 Enabling quick and easy NMEA 2000 Connectivity, AS-A2K-SBN-1 Small Boat Network Starter Kits consist of four T-pieces enclosed in single molded case. Eliminating need for multiple T-pieces, product comes with 3 m cable that is connected to boat's battery.
---
Original Press Release:
The Premiere Marine Connectivity Company Offers the First Plug-and-Play NMEA 2000 Network
Actisense, the benchmark marine connectivity and buffer solution company, announced today the availability of its Small Boat Network Starter Kits. This is another first for the industry and solidifies Actisense as the premier and market leading marine company bringing the benefits of NMEA 2000 connectivity to smaller boats, RIBs and run-arounds.
Installing a small NMEA 2000 network is now quicker and easier with the Actisense Small Boat Network (SBN) solution. The equivalent of four T-pieces in a single molded case provides a significant time and space savings with the need to connect multiple T-pieces entirely eliminated. Termination resistors are built-in the SBN which further increases the cost savings. Once the molded and attached 3-meter cable is connected to the boat's battery, an NMEA 2000 network is ready to use for up to four devices, making plug-and-play NMEA 2000 network and connectivity a reality.
"We are proud of our multi-year relationship with Actisense and admire how this innovative company constantly pushes the envelope to offer boaters an unparalleled level of capabilities and options, especially when it comes to making the latest in NMEA 2000 information-sharing technology available to a larger and untapped market segment," said Robin Martel of Fugawi. "No other marine connectivity company offers boaters the breadth of analog, NMEA 0183 and NMEA 2000 converters and buffers to ensure better situational awareness for the boating public and more efficient communication among the instrumentation on board."
The other product in this series, the RIB Starter Kit (RSK), was created by Actisense as a 'network in a box' and a more flexible solution to small boat NMEA 2000 networking. The RIB Starter Kit incorporates the popular time and space saving 4-way T-piece with a set of removable termination resistors for network expansion and a micro cable to plug into any T-piece on a small NMEA 2000 network for power.
"Fugawi has been an ideal partner for our award-winning products in Canada," said Phil Whitehurst, CEO of Actisense. "Fugawi's extensive dealer network and customer base have reaped the rewards of better NMEA 2000 and NMEA 0183 networks and more trouble-free boating thanks to the combination of best-of-class products and Fugawi's legendary customer service."
Availability
Both the Small Boat Network (AS-A2K-SBN-1) and the RIB Starter Kit (AS-A2K-RSK-1) are available from Fugawi's extensive dealer network at USD $79/ CAD $99.99 and USD $109/ CAD $149, respectively. For more information visit fugawi.com.
Fugawi (Northport Systems Inc.) was founded in 1995 in Canada and distributes software, connectivity solutions and hi-tech marine products from leading manufacturers. The assets of Northport Systems Inc. were purchased by Johnson Outdoors Canada Inc. in 2016.
Actisense (Active Research Limited) was formed in 1997 in England, by Phil Whitehurst, who as a Chartered Electronics Engineer recognized the need for innovative and reliable marine electronic equipment.
Contact:
Bob
Business Manager
Fugawi (now part of Johnson Outdoors Canada Inc.)
411 Richmond St. East, Suite 307
Toronto ON M5A 3S5 Canada
Phone: 617-500-5140
Cell: 508-414-6598
bob.moshiri@johnsonoutdoors.com
Related