Small Belt Tensioners come in various configurations.
Press Release Summary: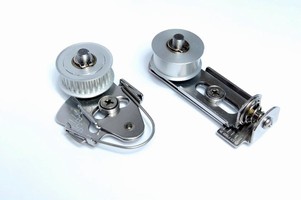 Offering small footprints and low belt clearances, Dynamic Pivot, Dynamic Slot, Static Pivot, and Static Slot Belt Tensioners are suitable for any small drive. All tensioners are available in size 4 and size 3, with clamping or sliding bushings. Idler pulleys are offered in aluminum or self-lubricating plastic, in seven different profiles. All specifications are user-configurable.
---
Original Press Release:
York Industries Introduces the First and Only Line of Small, In-stock, Universal Belt Tensioners
In-stock tensioners cut design time, eliminate tooling, and reduce inventory, assembly and manufacturing costs. York has designed four types of tensioners in two sizes to give you a choice of stock solutions for your drive design. Dynamic Pivot Tensioners* o Spring adjusts either CW or CCW o Dual purpose– static or dynamic o Fits easily inside or outside the belt Dynamic Slot Tensioners* o Spring adjusts as belt ages o Easy to adjust tension on belt o Unique installation bushing o Spring may be set to push or pull on belt Static Pivot Tensioners* o Very small footprint o 44° arc of movement o Wide span of travel Static Slot Tensioners* o Classic design o Linear adjustment o Small but very strong They offer small footprints and extremely low belt clearances, and our stock mounting spacers enable you to easily configure a tensioner for any small drive. All tensioners are available in size 4 and size 3, with clamping or sliding bushings. Idler pulleys are offered in aluminum or self-lubricating plastic, in seven different profiles. Using our exclusive online tool you can configure any of our universal tensioners to fit your design perfectly, download CAD drawings, and even request a free quote. York's easy-to-use, menu-driven configuration tool walks you through the process of designing and specifying a custom tensioner for your drive system. Visit www.york-ind.com/tm and see how easy it is to create... tension without the stress. To order a FREE 140-page Stock Products Catalog, please send an email with your name and address to: catalog@york-ind.com * patent pending
More from Machinery & Machining Tools