Sludge Heat Exchanger is jacketed and non-clogging.
Press Release Summary: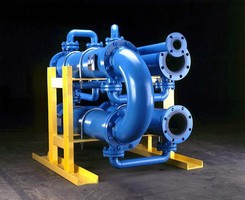 Based on Hi-Pass(TM) non-clogging static mixer, Klean-Flow heat exchanger suits wide range of municipal and industrial applications including municipal sludge digesters, biogas recovery, ethanol production, and animal waste heat recovery. Unit comes with contoured elements to maximize heat transfer while eliminating corners that can trap solid or fibrous materials.
---
Original Press Release:

Komax Systems, Inc. Launches a Jacketed Heat Exchanger for Sludge Heating



Wilmington, CA--Komax Systems, the leader in static mixer heat exchangers announces the release of a non-clogging high efficiency sludge heat exchanger.

This heat exchanger is based on the proven Hi-Pass(TM) non-clogging static mixer designed specifically for sludge and heavy slurry applications. Klean-Flow heat exchangers are designed with contoured elements to maximize heat transfer while eliminating corners that can trap solid or fibrous materials. This highly turbulent flow creates a scavenging environment, continually cleaning the walls of the pipe for maximum heat transfer. The Klean-Wall design will readily pass individual solid items with a nominal diameter up to ½ that of the tube diameters.

"This heat exchanger has proven itself in a wide range of municipal and industrial applications," said Robert Smith, President of Komax Systems. "Our best source of customers are those currently using spiral heat exchangers who are tired of messy clean-outs due to plugging or fouling and unplanned shutdowns".

The reliability and high efficiency of the Klean-Wall system have proven itself in demanding applications including municipal sludge digesters, biogas recovery, ethanol production and animal waste heat recovery. With up to 4 times the conductivity of conventional heat exchangers, the Klean-Wall system provides improved economies of operation and lower initial costs over the traditional spiral heat exchanger. Further information can be found on the Komax website at komax.com/det-digester.htm .

About Komax System

Since 1971 Komax Systems has been the leading manufacturer of static mixers, steam heaters and heat exchangers using static mixing technology. Komax has installed over 100,000 static mixers and 4,000 heaters and heat exchangers in industrial, municipal, polymer and food & beverage applications.

Further information about Komax Systems can be found on our website www.komax.com

Contacts:

Earl Ahrens,

Director of Business Development

Komax System, Inc.

PO Box 1323

Wilmington, CA 90748-1323

Tel: 310 830 4320 x29

Fax: 310 830 9826

earl@komax.com

Related