Slotted Divider Strips help organize shelf content.
Press Release Summary: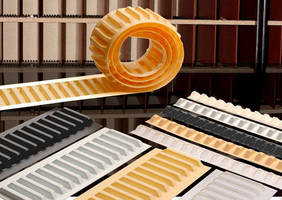 Available in Standard and Baby versions, multipurpose Binning Divider Strips create reconfigurable compartmentalized horizontal and vertical partitions or dividers for bins, drawers, cabinets, tables, or displays in which objects must be segregated. Products feature raised slots into which dividers of different materials can be temporarily or permanently fitted as necessary. Available with or without adhesive backing, strips come in black, white, ivory, or clear styrene.
---
Original Press Release:
Outwater Introduces its Binning Divider Strips
Originally created for use in retail sales environments, Outwater's [Outwater Plastics Industries, Inc. + Architectural Products by Outwater, LLC] simple to install and easy to use multipurpose Standard and "Baby" Binning Divider Strips enable anyone to readily and economically create reconfigurable compartmentalized horizontal and vertical partitions or dividers for bins, drawers, cabinets, tables or displays in which objects must be segregated.

Comprising raised slots into which dividers of different materials can be temporarily or permanently fitted as necessitated, Outwater's vacuum formed, slotted plastic Binning Divider Strips can be cut to suit any installation and are offered with 1/8-inch and ¼-inch divider slots in 2-3/4-inch x 60-inch and 2-3/4-inch x 48-inch configurations (Standard Binning Divider Strips), or a 1/4-inch divider slot in a 1-inch x 60-inch format ("Baby" Binning Divider Strips).

Both Standard and "Baby" Binning Divider Strips are available with or without adhesive backing in Black, White, Ivory or Clear Styrene to accommodate the physical and aesthetic requirements of the intended application as well as the environment in which they are to be utilized.

For further product information, please click the enclosed link or copy and paste it into your web browser:

http://www.outwatercatalogs.com/lg_display.cfm/catalog/Master_2012?useSearchForm=singlepage=125

About Outwater [Outwater Plastics Industries, Inc. + Architectural Products by Outwater, LLC]: Outwater can be contacted Toll Free at 1-800-631-8375 (For sales and product information in the USA & Canada) / 1-201-498-8750 (For sales and product information outside of the USA & Canada) or viewed online at www.outwater.com 

From the vendor of a single product in August 1972, Outwater Plastics Industries, Inc. + Architectural Products by Outwater, LLC, with sales and distribution facilities in New Jersey and Arizona, are recognized today as well established international manufacturers and stocking distributors of more than 65,000 standard and innovative component products required by woodworkers, cabinet and furniture manufacturers, builders, remodelers, designers, architects, point-of-purchase and display fixturing manufacturers, OEM's, as well as a very diversified range of other commercial and retail end users.

Major Product Categories include Plastic & Aluminum Extrusions; Lighting and Lighting Accessories; Furniture, Cabinet & Store Fixture Components; Knobs & Pulls; Casters; Fasteners; Laminates; The FOGA Exhibit & Display Fastening System; The Klem Connector; Literature Displays; Slatwall; Sign Holders; P.O.P Components; Display Motors & Turntables; Pedestals; Injection Molded Parts; Brass Tubing & Fittings; Surfacing Materials; Interior & Exterior Polymer & Wood Architectural Mouldings & Millwork; ORAC DECOR and DEM Architectural Mouldings & Millwork; Columns & Capitals; Balustrading; Wrought Iron Components; Decorative Stamped Steel & Polymer Ceiling Panels; Wainscoting; Wall Coverings; Fireplace Surrounds; Plastic "Glass" Block; Plaster Architectural Elements; Period & Contemporary Hardware; Kitchen & Bath Accessories; Kitchen & Bath Cabinetry and Vanities… and so much more!

Contact:
Joey Shimm, Director of Marketing
Outwater Plastics Industries, Inc. + Architectural Products by Outwater, LLC
(201) 498-8750
More from Electronic Components & Devices