Slitters make precise shear or crush cuts.
Press Release Summary: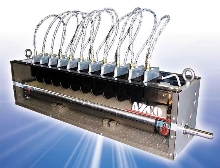 Suited for moderate-volume web processing lines, ACU-SLIT(TM) delivers clean, exact cuts to variety of rolled material. ACU-SLIT SLS shear cut slitter features spring-loaded upper knife that cuts up to 12 ft wide rolls in 3/8-1 in. strips. ACU-SLIT SLC crush cut slitter handles thicker, low-density materials such as filter media and non-wovens. Both models can be manual or motorized and are available with unwinder and rewinder modules.
---
Original Press Release:

AZCO's ACU-SLIT(TM) Modules Make Precise Shear or Crush Cuts


Designed as an add-on or replacement unit for moderate-volume web processing lines, the ACU-SLIT(TM) Slitter from AZCO Corp. delivers clean, exact cuts to a diverse array of rolled material, including paper, foil, film, plastic sheeting, and non-wovens.

The ACU-SLIT(TM) is available in two versatile formats to accommodate a variety of applications, from foil labels to breath strips to wallpaper borders. The ACU-SLIT(TM) SLS is a shear cut slitter with a spring-loaded upper knife that accurately executes sharp, clean scissor-like cuts-up to 12 feet wide roll, minimum 3/8 1 inch strips. The ACU-SLIT(TM) SLC is a crush cut slitter specifically engineered to handle thicker, low density materials such as filter media and non-wovens.

Both slitters can be manual or motorized, depending on speed requirements.

"These units represent an excellent combination of quality and price for the mid-range production environment," says AZCO President Andrew Zucaro. "The ACU-SLIT requires only minimal maintenance, essentially just replacing the blade when it becomes dull-no sharpening necessary."

The ACU-SLIT is available with unwinder and rewinder modules, both incorporating a special dancer arm or brake that keeps the same tension consistently for good winding and even edges. AZCO works closely with customers to determine the best format for each material sample, including slit intervals. Other custom modifications can be made as necessary, including integrating the slitter to one of AZCO's cut-to-length units.

Fairfield, NJ-based AZCO has specialized in the feeding and cutting of flexible materials for almost 20 years. This unique focus gives customers the benefit of targeted expertise, skills, and resources, along with field-proven components for each type of operation. AZCO equipment provides the reliability and serviceability necessary for the productive packaging environment. Standard units can be modified to provide custom solutions.

For more information, contact:

Lisa Fung
AZCO Corp.
26 Just Road
Fairfield, NJ 07004
Tel: 973 439 1428
Fax: 973 439 9411
lfung@azcocorp.com

More from Fluid & Gas Flow Equipment