Slipknot(TM) Rope Stop Retail Packaging is Introduced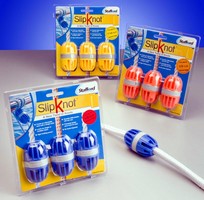 New colorful display packaging for their SlipKnot(TM) adjustable rope stop, an egg-shaped device that can be used to create a knot, grip, stop, or spacer, is being introduced by Stafford Manufacturing Corp. of Wilmington, MA.

Stafford's SlipKnot(TM) is molded from weather-resistant nylon, has ribbed construction for a sure grip, and can be used with braided or stranded lines to create a secure, but easily adjustable knot or stop. Featuring three sizes that fit 3/8", 7/16", and 1/2" rope, they come in clear plastic clamshell 3-packs of each size and an assortment of all sizes.

Designed to feed a rope through it or disassemble and attach in the middle of an existing rope, Stafford's SlipKnot(TM) grips by holding one side and twisting the other. An internal mechanism (patent pending) grips the line with up to 200 lbs. holding power, depending upon the rope's construction. They are offered in three colors: orange, safety yellow, and marine blue.

Stafford's SlipKnot(TM) sells for $24.95 (sugg. retail) for a 3-pack. Literature and more information is available at www.staffordslipknot.com .

More from Communication Systems & Equipment