Slip Rings suit demanding industrial applications.
Press Release Summary: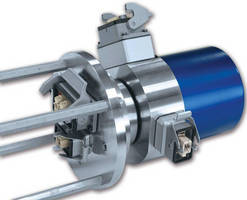 Designed to allow transmission of signals from stationary to rotating structure, Slip Rings can be configured for power and signal connections. Signal portion is compatible with Ethernet, Profinet, RS-232, RS-485, RS-422, and CAN as well as analog or digital sensing and 24 V control signals. Rings are suited for electromechanical systems that require unrestrained, intermittent or continuous rotation while transmitting power and/or data, such as wind turbines, robotics, and industrial machinery.
---
Original Press Release:

DEUBLIN Slip Rings for Demanding Applications



WAUKEGAN, IL-DEUBLIN Company introduces Slip Rings for a wide variety of industrial applications. Deublin Company has utilized the same high quality standards in the development of the new Slip Ring product line as we have established in our rotary union designs for over 60 years. Deublin's versatile Slip Ring designs can be easily configured for both power connections and signal connections. The signal portion of the slip rings are designed for compatibility to Ethernet, Profinet, RS-232, RS-485, RS-422, CAN as well as generic analog or digital sensing and 24V control signals.

Deublin Slip Rings are ideally suited for a variety of demanding applications. These slip rings can be used in a variety of uses such as wind turbines, robotics, industrial machinery (textile, bottling, and packaging for example), test equipment, commercial displays, crane and hoist controls just to name a few.

A Slip Ring is an electrical device that allows the transmission of power and electrical signals from a stationary to a rotating structure. A Slip Ring can be used in any electromechanical system that requires unrestrained, intermittent or continuous rotation while transmitting power and/or data. Typically, a Slip Ring is comprised of a graphite or precious metal brush which contacts the outside diameter of a rotating metal ring. As the Slip Ring turns, the electrical current or signal is conducted through the stationary brush to the metal ring making the connection. Additional ring/brush assemblies are stacked along the rotating axis if more than one electrical circuit is needed.

A new brochure is available (Catalog SR084 US), along with a Request for Quote form that assists in the specification of the Slip Ring.

DEUBLIN Company is the leading manufacturer of precision rotating unions for water, steam, air, hydraulic, vacuum, coolant and hot oil service. With manufacturing and / or sales offices in 17 countries worldwide, DEUBLIN international headquarters are located at 2050 Norman Drive West, Waukegan, IL 60085-6747 USA Phone: 847.689.8600 Fax: 847.689.8690 www.deublin.com

Related