Slip-Resistant Mats are offered in PVC, thermoplastic rubber.
Press Release Summary: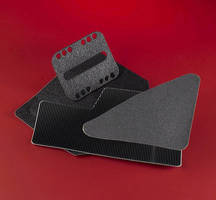 Available in PVC (R-200) and textured thermoplastic rubber (T-200), Pres-On line of adhesive-backed matting provides slip-resistance on floors, step stools, ladders, lockers, and running boards. They resist wear in heavy commercial or industrial environments, and do not absorb oils, chemicals or grease. PVC matting is 3/32 in. thick and comes in length of 75 ft, while thermoplastic rubber mat is 1/16 in. thick with length of 50 ft. Both mats are available in widths of ¼-54 in.
---
Original Press Release:

Pres-On Matting Provides Safe, Affordable Flooring



Slip-Resistant Matting Available in PVC, Thermoplastic Rubber

ADDISON, IL, January 15, 2009 -- Of the estimated 3.8 million disabling injuries each year in the work force,15 percent are due to slips, trips, or falls, which account for 12 to 15 percent of all Workers' Compensation costs.

Pres-On, a leading manufacturer of adhesive products, is helping businesses combat slips in the workplace by introducing a new line of adhesive-backed matting in PVC (R-200) and textured thermoplastic rubber (T-200). Both provide outstanding slip-resistance on floors, step stools, ladders, lockers and running boards, while also exhibiting excellent traction on work tables and counters being employed for assembly or service.

Both matting products feature rugged construction to resist wear in heavy commercial or industrial environments. While staying firmly in place thanks to an acylic adhesive applied to the flooring side, Pres-On matting can be cleaned easily, plus will not absorb oils, chemicals or grease, adding to their long-lasting value.

In addition, the matting's dense composition deadens noise, contributing to a safer, more productive workplace.

Like all Pres-On products, the new matting can be custom ordered to the length, width and thickness required by the application or in specialized die-cuts. Standard size in the PVC matting is 3/32-inch thickness in a length of 75 feet. For the thermosplastic rubber, the standard size is 1/16-inch in a length of 50-feet. Both standard sizes can be be ordered in widths of ¼-inch to 54 inches.

For more information, please visit www.preson.com. Or call 800-323-7467.

ABOUT PRES-ON

Founded in 1949, Pres-On is a leading manufacturer of adhesive coating, coated foam tape, mounting substrates, gaskets and cap liners serving customers worldwide in the industrial and consumer markets. Pres-On is based in Addison, Illinois.

Pres-On
39 Factory Road
Addison IL 60101

More from Portable Tools