Slim-Fit Conveyor Pulls a Gap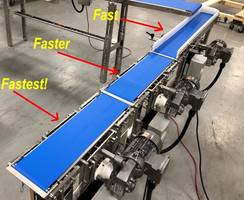 Winneconne, WI - Multi-Conveyor (www.multi-conveyor.com) - Multi-Conveyor recently built a series of Slim-Fit low-profile, sanitary, small product transfer conveyors for a confectionary application. Product gently transfers onto three in-line Slim-Fit conveyors that progressively accelerate in speed to a "pull" a minimum gap before end transferring onto a check-weigher prior to a hand-pack station.
Individual single row product will gently cascade and 90 degree transfer onto the first section that incorporates custom guiding to form a back stop and side rail to minimize product bounce.
Product then runs through two more conveyor sections at progressively faster belt speeds. This results in a larger product gap due to speed ratio..
Deadplate transfers ensured the individual products' smooth transition without stall - even at increasingly higher line speeds. The transfer plates are simply removed for maintenance or cleaning.
Belt tracking is easily adjustable to compensate for uneven belt wear or belt stretch over time. Washdown rated local VFD's were also supplied for individual motor control and rapid change over between products.
Our standard Slim-Fit series is pre-engineered, quality-built, affordable, stainless steel, sanitary, and features tool-less pin-pull belt removal. Learn more about the Slim-Fit here.
View this machine on YouTube at: https://youtu.be/HPOWuLXqVC0)
NOTE: Products used in this video are for demonstration purposes only.
About Multi-Conveyor
Multi-Conveyor is a leading manufacturer of standard and custom conveyor solutions for End-Users, Integrators, Engineering firms, OEM's and Contract Packagers across multiple markets. We specialize in conveyor systems for packaging or material handling for nearly every industry, product, shape and size. Our customers report they select Multi-Conveyor for concept/design, engineering skills, quality product, best value and prompt delivery.
Multi-Conveyor excels in OEE, sanitary conveyors, easy to maintain, clean-in-place or "no tools required" belt changeover systems for nearly any industry. We direct manufacture stainless steel and mild steel construction conveyors for table top chains, modular plastic belts, fabric belting, wire belt, and new custom sanitary MDR and sanitary gravity roller systems . Our in-house electrical and engineering departments execute the controls, panels, devices, PLCs, VFDs, HMIs, safety, inspection and sensors needed to integrate our systems with multiple packaging platforms. Quick ship plastic chain and low-profile, small transfer, pre-engineered sanitary and non-sanitary belt systems are available for quick delivery too!
All of our conveyor construction designs and technologies can be found on our website at www.multi-conveyor.com. Then visit our comprehensive video gallery to learn more.
CONTACT INFO for PUBLICATION:
Multi-Conveyor LLC
P O Box 10
Winneconne, WI 54986
1-800-236-7960
info@multi-conv.com
www.multi-conveyor.com
PR CONTACT NON-PUBLICATION:
cmiller@multi-conv.com
Contact This Company Download Spec Sheet
More from Material Handling & Storage