Slim Digital Projectors feature lamp-free design.
Press Release Summary: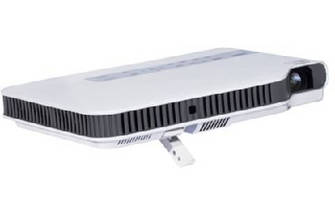 Weighing 5 lb and measuring 1.7 in. high, SLIM Series is powered by combination of Laser and LED Hybrid Light Source and DLP technology. Units feature wide-angle 2X power zoom lens and intelligent brightness control, which uses built-in light sensor to adjust brightness level of projection to suit lighting conditions of room. Some models include USB capabilities, built-in presentation timer, and MobiShow, which makes presentations possible via mobile device using WiFi connection.
---
Original Press Release:

Casio's SLIM Series Continues to Innovate the Digital Projection Industry



Six New Lamp-Free Projectors Set the Industry Standard by Offering High Brightness, Mobile Connectivity and an Overall Lower Cost of Ownership

LAS VEGAS, -- Leveraging its heritage in LASER & LED HYBRID Light Source production, Casio America, Inc. is set to introduce a refreshed line of SLIM projectors. The popular SLIM Series, marking its third year of production, has been enhanced with six updated models: the XJ-A141, XJ-A146, XJ-A241, XJ-A246, XJ-A251 and XJ-A256. The new SLIM projectors will be exhibited at Casio's booth (#10904) at the International Consumer Electronics Show at the Las Vegas Convention Center, January 10-13, 2012.

Weighing in at only five pounds, the new SLIM projectors are 1.7 inches high, making them the thinnest high brightness projectors in the industry. With a wide-angle 2X power zoom lens allowing an extensive range of projection distance, the refreshed SLIM series sets the standard for mobile projection. Three of Casio's new SLIM projectors, the XJ-A146, XJ-A246 and XJ-A256, are equipped with USB capabilities, MobiShow, Wireless Presentations and a presentation timer -- making them the ultimate presentation solution.

MobiShow makes business presentations possible from most popular mobile devices using only a WiFi connection. MobiShow is compatible with Microsoft Windows® Mobile, iPhone®, iPad® and Android® operating systems. Additionally, the new SLIM USB models have the ability to make wireless presentations from Mac computers. Up to 32 computers can be connected at one time and users can also view up to four PCs on an individual screen simultaneously.

The new SLIM models also have a built-in presentation timer function to keep track of time and ensure all presentations are done in a timely fashion. A compact window is displayed in the corner of the screen and lets both the presenter and audience know how much time is left for the presentation.

"We are extremely proud of the success of our SLIM series. Due to this success, Casio will continue to build on the technology, increase efficiency and streamline costs, bringing the professional presenter the best in class each and every time," said Matt Mustachio, general manager of Casio's Business Projector Division. "Today presenters need to have a unit that will continuously deliver and help make the presentation process stress free. Casio's Lamp-Free projectors provide this as well as a low cost of ownership."

The latest introductions in the SLIM lineup feature innovative functions such as Intelligent Brightness Control, an ECO function that minimizes power consumption by using no more than the level of brightness actually required all while illuminating sharp imagery. Intelligent Brightness Control utilizes a built-in light sensor to automatically adjust the brightness level of the projection to suit the lighting conditions of any room. Brightness can be adjusted continuously and smoothly due to the LASER & LED HYBRID Light Source, a feature not possible with traditional mercury lamps.

The SLIM projectors are powered by Casio's state-of-the-art LASER & LED HYBRID Light Source and DLP technology that provides Lamp-Free, eco-friendly data projection at a fraction of the cost of traditional projectors. Casio's LASER & LED HYBRID Light Source combines blue laser light and a fluorescent element to generate a high output of green light. The green light, blue laser light, and the light emitted by a red LED are projected through a DLP® chip which, in turn, is passed through the projection lens to form an image. This technology achieves an increase in color spectrum compared with a mercury lamp, while lowering a projector's total cost of ownership and maximizing investment.

The new SLIM models will be available for MSRPs of $999.99 - $1,499.99 and are covered by a three year parts and labor warranty including 6,000 hours on the LASER & LED HYBRID Light Source. For additional information regarding Casio's projectors, please visit www.casioprojector.com.

About Casio America, Inc.

Casio America, Inc., Dover, N.J., is the U.S. subsidiary of Casio Computer Co., Ltd., Tokyo, Japan, one of the world's leading manufacturers of consumer electronics and business equipment solutions. Established in 1957, Casio America, Inc. markets calculators, keyboards, digital cameras, mobile presentation devices, disc title and label printers, watches, cash registers and other consumer electronic products. Casio has strived to realize its corporate creed of "creativity and contribution" through the introduction of innovative and imaginative products. For more information, visit www.casiousa.com.

Visit Casio at CES Booth # 10904

Web Site: www.casioprojector.com