Rotary Vane Pumps (Sliding Vane)
Sliding Vane Pumps offer 90° and 180° porting options.
Press Release Summary: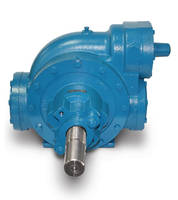 Available in 2, 2.5, 3, and 4 in. sizes, NPH and XH Series feature internal relief valve that protects against excessive pressures, symmetrical bearing support that promotes extended life, as well as self-priming and dry-run capabilities. Suction-lift capability suits pumping from underground tanks, bulk-plant service, and aircraft refueling. While XH pumps handle non-corrosive and non-abrasive industrial liquids and petroleum products, NPH Series handles viscous or shear-sensitive fluids.
---
Original Press Release:

Blackmer® Adds NPH and XH Series Sliding Vane Pump Models to its Product Portfolio



180-degree porting option differentiates pumps from competitive technologies



Grand Rapids, MI, USA – Blackmer®, part of PSG®, has added the NPH and XH Series Sliding Vane Pump models to its NP and X Series product families. Both the XH Series pumps, which are designed to handle a wide range of non-corrosive and non-abrasive industrial liquids and petroleum products, and the NPH Series pumps, which are ideal for handling viscous or shear-sensitive fluids, feature the same performance characteristics as the NP and X Series models and are available in 2", 2.5", 3" and 4" (51 mm, 64 mm, 76 mm and 102 mm) sizes.



The feature that sets the NPH and XH Series pumps from the competition allows the user to choose between 90- and 180-degree porting. Not all other brands have the capability for 180-degree porting in all pump sizes, which gives the NPH and XH pumps a level of operational flexibility that gear pumps and other technologies do not possess.



Standard features on both the NPH and XH Series pumps include an internal relief valve that protects against excessive pressures; a smaller motor for less operational costs; high volumetric efficiency; symmetrical bearing support for extended life; high suction-lift capability that makes them suitable for pumping from underground tanks, bulk-plant service and aircraft refueling; self-priming and dry-run capability; and the unique sliding vane method of operation that results in high-level performance, energy-efficiency, trouble-free operation and low maintenance costs.



For more information on Blackmer, please go to blackmer.com. Blackmer is a product brand within PSG®, a Dover company. For more information on PSG, please go to psgdover.com.



About Blackmer:

Blackmer® is the leading global provider of innovative and high-quality rotary vane and centrifugal pump, and reciprocating compressor technologies for the transfer of liquids and gasses. For more than a century, the Blackmer name has stood for unparalleled product performance, superior services and support, well-timed innovation and a commitment to total customer satisfaction. Supported by a worldwide network of distributors and original equipment manufacturers, Blackmer pumps and compressors are used in a multitude of applications in the Process, Energy and Military & Marine markets. Blackmer—headquartered in Grand Rapids, Michigan, USA—is part of PSG®, a Dover company.



Sales Contact:

Thomas L. Stone, PSG® Director of Marketing

PSG®, A Dover Company

616-248-9252 or

[email protected]





Media Contact:

Darren Wight, VP Media & Publicity

DeanHouston (agency for PSG)

513-280-0047 or

[email protected]