Rotary Vane Pumps (Sliding Vane)
Sliding Vane Pump handles abrasive liquids. .
Press Release Summary: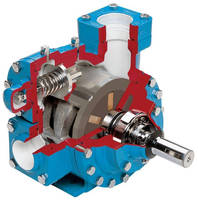 With hardened rotor and shaft, liner, end discs, and vanes, 4 in. Model XLW4A is suitable for use with liquids featuring suspended abrasive particles up to 250 microns at concentration up to 25%. Pump produces flow rates up to 190 gpm at speeds up to 350 rpm, and handles viscosities to 20,000 SSU. Operating at temperatures up to 300°F with working pressures to 350 psi, pump is suited for vertical and horizontal bead mills, solvent recovery, tank-bottom recirculation, and crude/hot oil transfer.
---
Original Press Release:

Blackmer® Extends XLW Series Sliding Vane Pump Family with 4-Inch XLW4A Model



Grand Rapids, MI – Blackmer®, a global leader in positive displacement and centrifugal pump, and reciprocating compressor technologies, is pleased to announce the availability of the XLW4A Model Sliding Vane Pump. This 4-inch pump is an extension of Blackmer's XLW Series Sliding Vane Pump line, which was introduced in 1978.



XLW Series pumps have been designed to perform in the handling and transfer of a variety of abrasive liquids, including oxide primers, inks and paints, where wear-resistance is critical to pump operation. XLW Series pumps have also shown to be successful in applications such as vertical and horizontal bead mills, solvent recovery, tank-bottom recirculation, heat-treater supply, enhanced oil recovery, and crude- or hot-oil transfer.



As with all XLW Series pumps, the XLW4A model features hardened rotor and shaft, liner, end discs and vanes for long life and optimized wear-resistance. These hardened internal parts allow the pump to be used with liquids featuring suspended abrasive particles up to 250 microns in size and at a concentration up to 25%.



The XLW4A model can produce flow rates up to 190 gpm (719 L/min) at speeds to 350 rpm; handle viscosities to 20,000 SSU (4,250 cSt); operate at differential pressures to 150 psi (10.3 bar) and working pressures to 350 psi (24.1 bar); and handle temperatures up to 300ºF (149ºC).



For more information on Blackmer, please go to www.blackmer.com. Blackmer is an operating company within the Pump Solutions Group (PSG®). For more information on PSG, please go to www.psgdover.com.



About Blackmer:

Blackmer® is the leading global provider of innovative and high-quality rotary vane and centrifugal pump, and reciprocating compressor technologies for the transfer of liquids and gasses. For more than a century, the Blackmer name has stood for unparalleled product performance, superior services and support, well-timed innovation and a commitment to total customer satisfaction. Supported by a worldwide network of distributors and original equipment manufacturers, Blackmer pumps and compressors are used in a multitude of applications in the Process, Energy and Military & Marine markets. Blackmer—headquartered in Grand Rapids, Michigan, USA—is a member of Dover Corporation's Pump Solutions Group (PSG®).



Sales Contact: 

Tom Stone, PSG Director of Marketing

Pump Solutions Group (PSG)

616-248-9252 

Tom.Stone@psgdover.com



More from Materials