Slideways Offers Broad Range of Extruded Profiles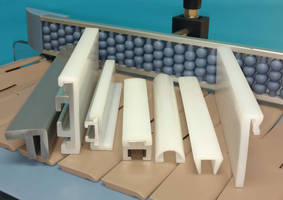 Worcester, MA March 1, 2021…SLIDEWAYS, manufacturer of custom and standard plastic components for packaging machines and conveyor systems, offers a full range of Extruded Profiles to support conveyor belts, chains and guide rails designed to keep product on conveyors. Available in UHMW, UHMW Blue, Oil-filled UHMW-Nylon and PTFE materials in straight lengths and coil depending on the size and cross-section as well as broad range of temperature environments. Configurations include channel, angle as well as specific shapes as snap-ons, j-legs and more. For food safety applications, blue is used for visual detection in unpackaged foods while metal-detectable properties are available for packaged foods on the production line. Slideways Extrusion Profiles are available in Teflon® materials for high temperature applications above 180˚F up to 500˚F while other materials such as UHMW can be enhanced with lubricants for higher speeds and additives for hardness and static dissipation. Slideways custom extrusions are available, large or small, for specific application requirements based on customer design requirements matched to specific extruded material and performance capabilities.
SLIDEWAYS is a manufacturer of custom and standard machined plastic extrusions and wear components used in conveyor systems, packaging machines, serving a wide range of industries including beverage, pharmaceutical and food processing. Components include chain guides, belt guides, rollers, roller chain sprockets, block bearings, hanger bearings and more.
Editorial Contact
Tom Sioui, CEO and Co-Founder
SLIDEWAYS, Inc Tel. 800 298 7543
tsioui@slideways.com
www.slideways.com
Agency: Ron Ward, Ward Communications Tel. 860-463-8057 rtwtmr@comcast.net
More from Fluid & Gas Flow Equipment