Slider Zipper seals large bags.
Press Release Summary: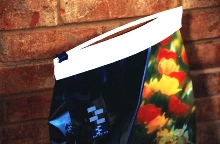 ArrowSlide® rip-n-zip® resealable bag closure system works on large multi-wall paper or plastic bags from 8 to 21 in. wide, regardless of weight of packaged product. Slider remains tightly affixed to zipper profile during filling and distribution processes, eliminating chance of slider pop-off. One-piece slider and zipper profiles are made of FDA-approved plastic materials and are suitable for both food and non-food packaging.
---
Original Press Release:
New ArrowSlide(R) Slider Zipper From MDH Packaging Corporation Introduced Into Worldwide Markets

As part of their fifth-year anniversary, MDH Packaging Corporation, Erlanger, KY, would like to introduce a newly patented slider zipper profile that will revolutionize the resealable packaging industry as it's known today. Known by the trade name ArrowSlide®, this new product in the company's existing line of rip-n-zip® resealable bag closure systems will allow large multiwall paper or plastic bags to have slider zipper technology for the first time. Extensive research and experimentation during the past two years at the Zip Pack AG technical center in Goldach, Switzerland led to a design-concept breakthrough allowing the ArrowSlide® product to meet the most requested criteria of manufacturers worldwide. As such, the ArrowSlide® slider zipper profile includes the features critical to the storied success of the Gen. I, III & IV rip-n-zip® resealable bag closure systems, as well as several unique features of its' own.

As is generally accepted, providing the consumer with an easier to open package that is tamper-evident, has the option of a convenient handle, and is resealable has become continually more important to the potential success of any product. Each of the rip-n-zip® resealable bag closure systems has an extremely high resistance to opening due to pressure from inside the bag, and each is equally applicable to gusseted and non-gusseted bags. There is no required purchase of machinery; resulting in saving space in already crowded plants and avoiding increased maintenance costs. There is no required purchase or replacement of current filling and sealing machinery; all of the rip-n-zip® products can be run on existing packaging lines. Lastly, each of the rip-n-zip® systems is applicable to bags ranging from 8" to 21 " wide, regardless of the weight of the packaged product. The new ArrowSlide® slider zipper profile further expands upon these achievements.

The ArrowSlide® slider zipper is the first and only slider zipper applicable to multiwall paper bags of any size. It is also well suited for application to large plastic bags. The slider itself remains tightly affixed to the zipper profile during the filling and distribution processes, virtually eliminating the chance of slider "pop-off". Both the one-piece slider and zipper profiles are made of FDA approved materials and are all plastic, making them applicable to both food and non-food packaging. ArrowSlide® is also the only slider zipper profile with an optional easy-carry handle available.

Much as the Generation I, III & IV rip-n-zip® resealable bag closure systems did upon their introduction, the ArrowSlide® slider zipper has changed the face of resealable bag packaging forever. For more information on the ArrowSlide® slider zipper, please visit our website at www.ripnzip.com or contact the following location nearest you:

North, South and Central America

Alan Eads, Vice President

MDH Packaging Corporation

4500 Olympic Blvd.

Erlanger, KY 41018

Tel: 859.746.0993
Fax: 859.746.0933

United Kingdom

Mark Dainty, Sales Executive

Zip Pack Packaging Technology, LTD.

Unit 17, Shaw Woods Business Park

Leger Way Doncaster, UK DN2 5TB

Tel: (01302) 344.119
Fax: (01302) 321.703

Australia and Japan

Craig Watson, Sales Manager

Zip Pak Pty LTD

10-16 Daisy Street

Revesby, AU NSW 2212

Tel: 61.02.9792.1800
Fax: 61.02.9792.2395

Europe and the Middle East

Rainer Garger, President

Pro-Sell Vertriebs Gmbh Fasholdgasse 4/1

Vienna, Austria 1130

Tel: 011.43.1.879.93.99
Fax: 011.43.1.879.93.99.15

More from Fluid & Gas Flow Equipment